Text of a Press Conference by the General Assembly Members of ActionAid Nigeria, Addressed by the Convener, Mr. David Nwachukwu, after a review of the State the Nation on the 15thday of June 2019 at Ibeto Hotel, Gudu, Abuja, Nigeria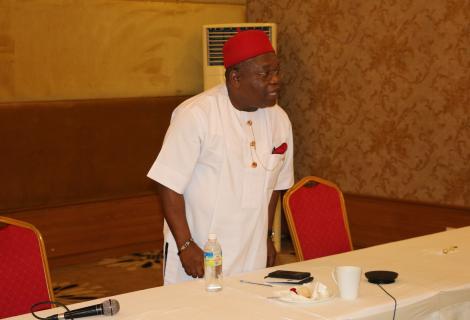 ActionAid Nigeria has followed with keen interest the various developments in Nigeria within the second quarter of 2019, particularly as the country draws the curtain on the 2019 General Elections with the swearing in of the newly elected governments at federal and state levels.As an organisation working to end poverty, we believe that the process of achieving our mandate requires the functionality of every instrument of government.Not discounting the efforts of federal government in the areas of improving the economy during its first tenure, we believe that much more can be done to make Nigeria better and safer for the citizens.
We have therefore reviewed the happenings in government, politics, economy and issues of security during the last quarter,particularly as it affects vulnerable groups: women, children, Persons with Disabilities (PwDs), and the youths .and have decided to share our views and recommendations on the way forward on the developments.
OBSERVATIONS:
There is lack of accountability and transparency in public finance management, especially the budgetary process.
The unsecured and volatile environments in different parts of the country will make it very difficult for development programmes to be implemented in different parts of the country if not promptly dealt with.
With the dwindling revenue occasioned by VOLATILE oil prices, non-remittances, and leakages, there is the tendency that borrowing will continue in 2019 to fund the budget.
The need for effective local governance is a major discourse in the polity, with more citizens calling for the involvement of more women in politics, leadership empowerment, broadening of electoral participation through grassroots involvement of local communities, the youths, and Persons with Disabilities.
There is extensive evidence of electoral maleficence in Nigeria. The Reports published by both local and international election observation missions provided a good overview of the challenges encountered in this area.
Climate change is perhaps the most serious environmental threat to the fight against hunger, malnutrition, disease and poverty in Nigeria, mainly through its impact on agricultural productivity.
Indiscriminate sinking of boreholes in Nigeria if not checked could cause earthquake and over abstraction of ground water with attendant negative consequences, even though the West African sub-region is not ordinarily prone to earthquakes.
Poverty and unemployment are on the increase in Nigeria; the country is seen as the headquarter of poverty, thus overtaking India, with about 24% of Nigerians currently unemployed.
The Nation's infrastructure needs more attention. The power sector ispoorly managed with companies involved not adequately equipped to deliver the required outputs and consumable megawatts. In addition, the deplorable state of our roads has made businesses suffer.
RECOMMENDATIONS
There is an urgent need to build an inclusive economy, an economy with a human face to enable Nigeria overcome the continuous mismanagement and wastage of public resources.This canbe achieved through a participatory and gender responsive budgeting processes, an effective revenue administration and expenditure management, open contracting and procurement system, transparent accounting and reporting procedures, and effective internal controls.
The army of unemployed young people can also be engaged to strengthen Nigeria's security deficit with the application of cutting-edge ICT driven anti-crime initiatives. The Nigeria Police should also look inwards to give new lease of life to community policing with a view to mapping crime and criminality in the bud ab initio.
Residents drill their own boreholes because of the inadequacy of public infrastructure in water works stations. We are calling for an improved funding of the public water supply system, which is affirmed by the experts as the best form of potable water.
Encouraging acquisition of skills will go a long way in solving Nigeria's unemployment challenge. Both the government and individuals should work hand – in – hand to reduce unemployment. Another alternative to solving unemployment issue in Nigeria is through self-discovery. Embracing the opportunities offered by the internet is a welcome idea in solving Nigeria's unemployment challenge.
True federalism should be given a new thought such that Nigerians can truly enjoy the dividends of democracy, particularly at the grassroots. With requisite framework and policies in place, this will deliver world class infrastructure and gender-responsive public services.
Massive and aggressive tree planting campaign should be embarked upon to reduce the effects of global warming/climate change. In addition, there should be an explicit national agricultural policy framework, adequate provision for irrigation, drainage, weather forecasting and other agricultural technology infrastructure.Furthermore, to boost agriculture, the following should be prioritised; incentive for training in agriculture, participatory capacity building for farmers, drought resistant and short duration high yielding crops development, integration of indigenous and modern knowledge on climate change adaptation, strengthening of extension services, and encouragement for the nurturing of existing farmer groups.
Government should not only decentralize its National Social Investment Programme (NSIP) and agricultural research (funding and activities) but, also make them participatory.
To tackle the challenge of infrastructure, proper funding and a crackdown on the embezzlement of public funds earmarked for infrastructure should be prioritized. Appropriate sanctions should be meted out to any engineer or contractor not performing his/her duties diligently. The workers in these sectors should be well paid, and those with good skills and strong ethics should be rewarded.