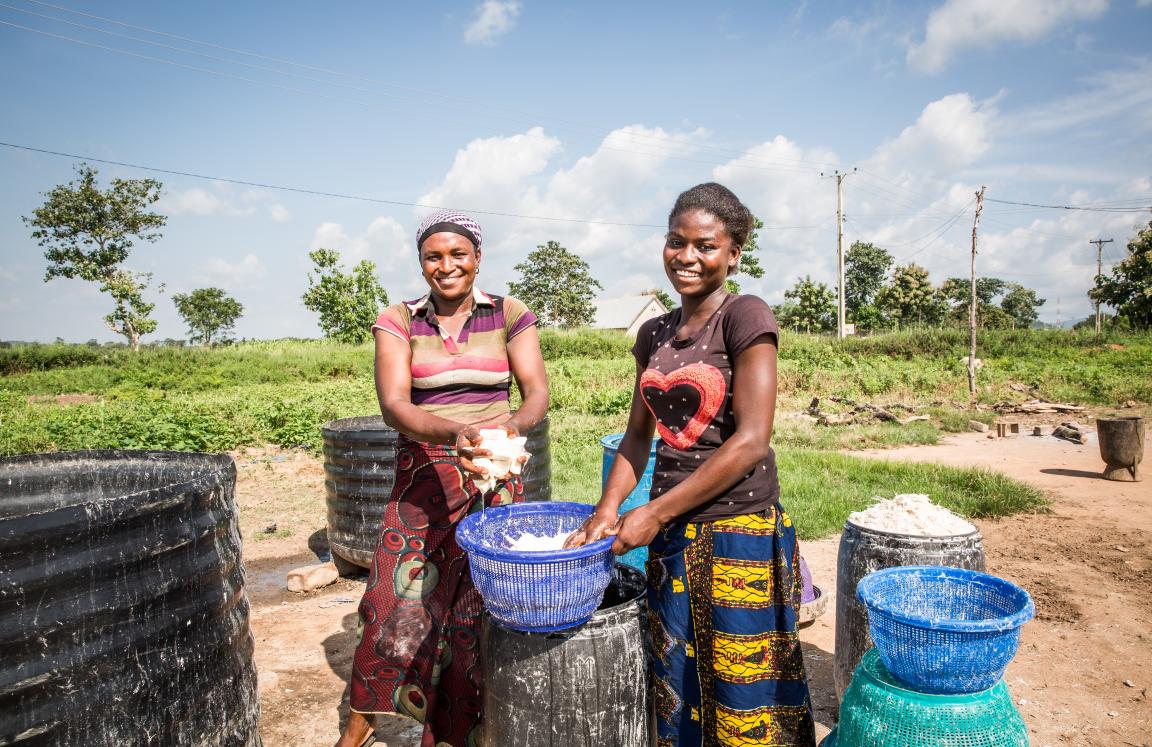 Women and girls are at the centre of our work!
ActionAid prioritises the leadership of women and young people, especially those living in poverty and exclusion, in our efforts to achieve social justice, gender equality and poverty eradication, we create platforms for collective action and solidarity by enabling people to unite and contribute to social justice struggles in various ways. Guided by feminist and human rights-based principles and approaches, we seek to shift and transform power, through empowerment, solidarity, campaigning and the generation of alternatives to ensure that every person can enjoy a life of dignity and freedom from all forms of oppression.
Visit www.feministhub.org for more of our work on women.
ActionAid Nigeria's country Strategy Paper (CSP) Strategic Focus 2 authenticates our commitment: work to protect women and girls from violence, create opportunities for economic independence and decision making. In delivering this objective, we have a dedicated Women's Rights unit that works with an in-house Women's Rights Review Group to operationalise the AAN strategy and provides oversight respectively. The strength of the women's rights programme lies in effective and efficient deployment of resources irrespective of expanse to make significant changes in the lives of the women and girls, communities, states and at the national level where we work.
Using a plethora of participatory learning techniques (which are very effective in working with community people on women and girls rights) to empower women and girls, and their collectives to either challenge deep seated oppressive cultural practices and violence against them in communities, local and state government levels or engage in economic activities and participate in decision making spaces and processes; build solidarity and movement and better able to demand accountability from duty bearers at all levels through campaign. These approaches usually lead to changes in individuals' lives as well as within the broader community.
ActionAid believes in partnership and collaboration with like-minded individuals and organisations, hence it collaborates with partners and allies, and works with community platforms and structures. Our state and community level work are facilitated in partnership with the Local Rights Programme partners across eleven focal states of Gombe, Kaduna, Benue, Delta, Kogi, Akwa Ibom, Kebbi, Kwara, Ebonyi, Ondo and the Federal Capital Territory.
For several years AAN has collaborative partnership with relevant networks and coalitions such as Gender Affirmative Action, Legislative Advocacy Coalition on Violence against Women (LACVAW), Development Partners Group on Gender (DPGG), and the Ministry of Women Affairs and Social Development (FMWASD) at state and national levels. It is worthy to note that AAN served as the Chair of Development Partners Group on Gender for two terms and is well recognised as key player in the promotion and protection of women's rights in Nigeria. In this capacity, AAN helped in shaping the DPGG's agenda in supporting the apex gender machinery (FMWASD) towards promoting, protecting and advancing the rights of women and girls in the country.
For more of our work on women and girls, kindly visit www.feministhub.org