Press Release - Development Partners Group on Gender (DPGG) Joint Statement (Op-ed) on International Women's Day March 8, 2021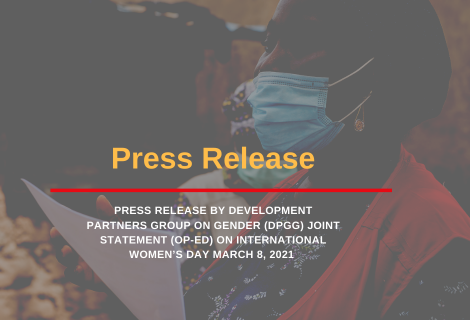 The Development Partners Group on Gender (DPGG) would like to commemorate this year's International Women's Day (IWD) with the global theme theme: Women in leadership: Achieving an equal future in a COVID-19 world and the 65th session of the Commission on the Status of Women (CSW65) by calling on all stakeholders to ensure women's equal representation and leadership in public and decision-making, both in the current context of the COVID-19 pandemic as well as in the future.
In Nigeria, the legal and policy framework on gender equality has been strengthened during the last decade. Nigeria has ratified 9 of the 13 most significant international human rights conventions, including the Convention on the Elimination of all forms of Discrimination Against Women (CEDAW). A notable milestone is the passing of the Violence Against Persons Prohibition (VAPP) Act in 2015, which aims to protect individuals from all forms of violence.
However, several significant challenges regarding women's rights still remain. There is a need to advocate for the domestication of the VAPP Act in all 36 states, to ensure that the rights of all Nigerians are protected. Another concern is women's access to political leadership positions. Nigeria is ranked 180 out of 192 countries regarding the percentage of women in parliament, with female legislators currently holding 5.8 and 7.3 percent of the seats in the House of Representatives and the Senate respectively. This stands in stark contrast to the recommendations in the National Gender Policy that mandated that women should account for at least 35 percent of seats in elected and appointed positions. Furthermore, there is yet to be a female Governor for any of the 36 states or a successful candidate for the Presidency in Nigeria.
This is not just a gender gap. It is a power gap that disenfranchises women and limits their opportunities to exercise their right to influence the society they live in
Two significant barriers to women's participation in public decision-making are patriarchal social norms and violence against women. According to the Gender Social Norms Index that UNDP has developed, Nigeria is listed as one of the five countries in the world with the highest percentage of their population showing bias against gender equality. For example, 81 percent of women and 91 percent of men in Nigeria have a political bias. This means that they believe that men make better leaders than women do and/or that it is not essential for women to have the same rights as men.
Violence against women is widespread in Nigeria, as a third of women between 15-49 have experienced physical or sexual violence. The threat of violence against women may also be exacerbated when they decide to run for office, which has been identified as a major reason for women to withdraw their candidacies or to not run at all.
There are several large-scale investments in Nigeria addressing these challenges, from actors such as the Nigerian government, bilateral and multilaterals, private foundations, and other international development partners. The Federal Ministry of Women Affairs is currently implementing a USD100 million women's economic empowerment and another USD 500 million investment in adolescent girls' education project as part of investments on women and girls. Another key intervention is the Spotlight Initiative, which is a joint European Union and United Nations Initiative to support a Nigeria where all women and girls, particularly the most vulnerable, live a life free from violence and harmful practices. However, there still exists a huge gap and more investments are needed because investing in women is smart economics.
The frequency of violent conflicts, targeting of women by armed groups; and the difficulties encountered by women human right defenders across the country, reiterates the need to localize the UN Security Council Resolution 1325 on women, peace and security taking into cognizance that less than 13 States currently have active Action Plans to implement the commitments for women, peace and security. Nigeria will also need to develop a 3rd National Action Plan on women, peace and security in 2021.
Women make up the majority of frontline workers most impacted by Covid-19, still women are excluded from leadership positions in the Covid-19 response teams at state and federal level. The full inclusion of women in decision-making has been identified as one of the key drivers to achieve sustainable development, peace and effective prevention and response to crisis. Given the current context of COVID-19 where the need for resilient and inclusive societies has become even more evident, this is not a chance we can afford to lose.
We recognize that the only way we can achieve sustainable progress on women's political leadership, is to work together as partners. Hence, the DPGG is committed to engaging with all stakeholders and calls for the elimination of barriers such as discriminatory social norms and violence against women to ensure women's equal representation in public life and in decision-making. Promoting women in leadership positions creates more inclusive solutions that benefits the population at large, as well as strengthens the respect for human rights.
Ene Obi Mrs.                                                                                             Funke Oladipo
ActionAid Nigeria                                                                  Federal Ministry of Women Affairs
Co-Chair, DPGG                                                                                       Co-Chair, DPGG
Note to the editor:
About the Development Partners Group on Gender (DPGG)
The Development Partners Group on Gender (DPGG) is a coordination platform and aims to stimulate greater commitment of resources and technical expertise to gender equality and women's empowerment in Nigeria. The group is made up of government agencies, donor organizations, united nations agencies, international NGOs, representative of CSOs and networks working to promote gender equality and women's empowerment in Nigeria. The group work with the ministry of women affairs and other relevant government institutions in Nigeria to ensure more commitment to gender equality in policy, programmes and budget at all levels of governance to achieve the goal of gender equality and women's empowerment in line with the
Paris Declaration principles. The group which is currently the largest multisectoral GEWE accountability group in Nigeria serves as a clearing house for GEWE, it also as serves as a platform for information, sharing and learning for members, and helps facilitate planning and co-ordination/partnership on priority issues related to gender equality, women empowerment, gender-based violence and legal frameworks.
For more information and media enquiries contact:
Mrs. Patience Ekeoba
Development Partners Group on Gender Secretariat
Email: patience.ekeoba@unwomen.org
UN House, Plot 617/618 Diplomatic Drive
Central Business District, FCT Abuja.