Nigeria Floods: ActionAid Nigeria Provides Emergency Rapid Response to Flood Affected Households in Jigawa State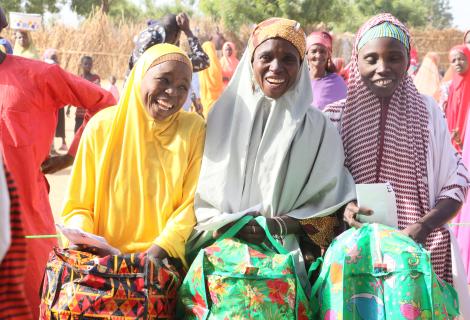 Press Release
Jigawa State has been affected by flooding since August 2022 due to heavy rainfall, which is causing severe damages to schools, houses, and the livelihoods of various communities in the state. The State Emergency Management Agency (SEMA) reported that the devastating effect of the floods is evident in the destruction of over 57,000 houses and displacement of more than 100,000 people across varied locations. According to data from the Nigerian Bureau of Statistics, Jigawa State is the 3rd poorest state in Nigeria at 87.2%. So, the continued loss of houses, livestock, farmlands and inaccessibility to quality education and health care will further deepen Jigawa's poverty levels.
Within the last one week, ActionAid Nigeria (AAN) has been collaborating with her Jigawa Local Rights Partner, Baba Azimi foundation, with funding from STARTFUND to carry out an emergency rapid response to flood affected households in Jigawa State. Our interventions revolved around:
Provision of cash for food to 1000 Households at N20,000 per Household
Distribution of non-food items to 1,200 Households 
Distribution of dignity kits to 500 lactating/pregnant women.
ActionAid Nigeria commends the efforts of the State Emergency Management Agency (SEMA), Jigawa State Police Force, Civil Defence, Local Government Chairman, Chancellor, and community volunteers for their immerse participation in the distribution of survival kits, cash for food, and non-food items, but we believe more can still be done for the affected communities and the states at the long run. 
Therefore, AAN enjoins Jigawa State Government to prioritise the implementation of the 12 recommendations the INGO forum, made on Thursday 20th October 2022 which calls for:
Declaration of a state of emergency on the flood by the Federal and affected state governments. 
Launching immediate life saving measures by stepping up the search and rescue efforts to ensure that trapped communities are immediately evacuated.
Prioritization of provision of emergency assistance to persons displaced and living in various displaced camps and host communities. These would include providing food assistance, non-food items, protection for women and girls etc. 
Promoting awareness on sanitation and preventive measures to curb a possible outbreak of waterborne index diseases like Cholera amongst others. 
Immediate provision of education in emergency situations to minimize the negative impact of flooding on children's studies.
In the medium to long term, it is important for the:
Integration of flood risk management with spatial planning and immediate humanitarian coordination fora in affected states to avoid duplication of responses.
Introduction or adaptation of community surveillance and early warning systems on flood prevention and mitigation, to prepare for hazardous climate-related events.
Prioritization of issues around climate change by increasing funding for agro-ecology and creating awareness to reduce the impact of climate change.
Implementation of interventions that support families and communities to recover their losses.
Establishment of proper water channels – avoid blocking waterways and ultimately encourage river dredging in the relevant states. 
Increased provision of food, temporary shelter, and hygiene/medical attention to affected communities. 
Sustained investment in infrastructure, particularly in building of climate-smart buffer dams to effectively contain excess water spills from Lagdo dam and construction of elevated bridges in places like Koton-karfi and Lokoja to prevent commuters from being stranded in future for Kogi being a nodal state.
AAN, as part of her efforts towards combating poverty and protecting the rights and dignity of everyone in society, has since 1999 been working on conflict and other emergencies and supporting communities to build resilience. Within the past 23 years, we have been supporting communities displaced by disaster on emergency relief and building resilience to overcome impact of such disasters.
#Ends
Contact: Anicetus Atakpu - Resilience Coordinator - ActionAid Nigeria
Tel: +234 (0) 8093323064 Email:  Anicetus.Atakpu@actionaid.org
Contact: Oluwakemi Akinremi-Segun – Communications Coordinator - ActionAid Nigeria
Tel: +234 (0) 902076904 Email:  Oluwakemi.Akinremise@actionaid.org
Website: nigeria.actionaid.org Facebook: ActionAidNigeria Twitter: @ActionAidNG