Nigeria Multidimensional Poverty Index: ActionAid Nigeria Calls for The Revamp of Health, Education, Agriculture, and Public Infrastructure.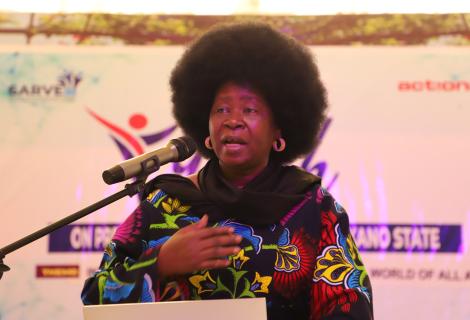 Press Release
ActionAid Nigeria applauds the National Bureau of Statistics (NBS) for the release of Nigeria's poverty Index report. The multidimensional approach of the survey which focuses on Health, education, living standards, and work and shocks makes this report unique and exhaustive. 
The CEO of NBS and Statistician-General of the Federation, Semiu Adeniran, said this was the first time the NBS would conduct a multidimensional poverty survey in Nigeria. According to him, the survey was conducted from 2021 to 2022, and it is the largest survey with a sample size of 56,610 people in 109 senatorial districts. 
However, ActionAid couldn't but notice that the current number of 133million poor Nigerians by NBS far exceeds the World Bank's projection for Nigeria in 2022. The latest findings differ from the World Bank's, which stated that poverty reduction stayed the same under President Muhammadu Buhari's administration and projected that 95.1 million Nigerians would become poor in 2022. 
According to the NBS report, Sokoto, Bayelsa, Jigawa, Kebbi, Gombe, Yobe, Plateau, Taraba, Zamfara and Ebonyi states are the top ten poorest States in Nigeria. Sokoto leads the poorest states in Nigeria with 90.5% followed by Bayelsa with 88.5%. Gombe also stands at 86.2%, Jigawa with 84.3%, and Plateau state with 84%. The report said that 65 % of Poor Nigerians, about 86 million, are in the North, and 35%, about 47 million, poor people live in the South. 
Other shocking details ActionAid observed, albeit our realities are: 
Out of over 200 million Nigerians, 63% that is, 133 million are living in multidimensional poverty. The level of poverty is higher in rural areas, where 72% of people are poor, compared to 42% of people in urban areas.
65% of poor people i.e., 86 million live in the North, while 35%, nearly 47 million live in the South.
29% of all school-aged children are not attending school. 94% of these out-of-school children are poor.
6 out of 10 girls aged 12–17 is poor, among those in child marriages, approximately 8 out of 10 are poor.
1 in 7 poor people (19.1 million) lives in a household where a man has completed primary school, but no woman has.
With a focus on the four dimensions the survey covered, 22.9million children under 5 are poor.
There are more poor children than poor adults: children make up 47% of the population, but makeup 51% of all poor people.
In reference to the 77.2million citizens and 57.4million others that the report revealed are faced with food and nutrition insecurity respectively, be reminded that the national measure of multidimensional poverty survey was conducted between November 2021 and February 2022, hence, the statistics would have increased, especially as the nation experienced the worst floods in the decade just after this survey was conducted. 
In addition to the recommendations of the report, ActionAid Nigeria is reiterating our call for the Presidency to create as a matter of urgency, a separate agriculture emergency fund outside the 2023 agriculture budget to avert the looming food crisis. This food and nutrition insecurity is caused by the insurgency, armed banditry, and farmers-herders clashes, and when you add floods across the country that has ravaged farmlands and livelihoods and our high post-harvest losses is about N3.5 trillion annually.
On access to cooking fuel, the federal and state governments must design sustainable interventions to provide access to cooking gas, energy-saving stoves, etc. to ensure less fuel-wood usage, less cutting down of trees, and lower greenhouse gas emissions which will help mitigate climate change.
As the world approaches the deadline of the Sustainable Development Goals in 2030, these figures and issues from Nigeria are damning. Child marriage is evidently a contributing factor to why our girls are not in school and girl-child education remains a burning issue that requires dire intervention. The sudden emergence of Bayelsa, a rich-in-resources state in the top five poorest states in terms of the proportion of poor people as well as the intensity of their poverty is also a call for concern. With the abundance of available natural resources, compared to the population of Bayelsa, the state ought not to be in the ranks of the poorest states in Nigeria.
As we prepare for the general elections in 2023, now is the time for all candidates to review their manifestoes and social contracts with the citizens of the Nation to reflect on our current realities and the recommendations in the Nigeria Multidimensional Poverty Index report released by the National Bureau of Statistics. 
Political parties at both national and subnational levels must prioritize food security, water reliability, under-employment, security shocks, school lag, and child deprivation. Security votes must be deployed for the purpose it is meant for, as this will contribute to boosting economic indices, ecology fund should be used to dredge river Niger and river Benue and the major dam recommended many years ago constructed, otherwise more people will be made poorer. Leaving governance and economic performance on the auto cruise mode will have more devastating effects on the citizenry that is still battling the effects of COVID-19, floods, and unemployment.
In conclusion. given Nigeria's size, position on the continent, and growth potential, the pressure to safeguard and improve lives of her citizens must be significant. ActionAid Nigeria, therefore, calls on Governments at all levels, to reinvigorate Small and Medium Scale Enterprises to make the economy robust. Local Government Areas must also be given a new lease of life because the state Governors currently emasculate them. Nigeria must invest more in youth engagements in information communication & technology and other areas where the nation is doing well to revamp the critical dimensions of health, education, agriculture, and public infrastructure.
Signed
Ene Obi
Country Director
ActionAid, Nigeria
#End
Editors' notes
ActionAid Nigeria (AAN) is a national non-governmental, non-partisan, non-religious, civil society organisation and an affiliate member of the ActionAid International Federation with a presence in 45 countries. AAN works in solidarity with people living in poverty and exclusion to achieve social justice, gender equality, and poverty eradication towards achieving a just, equitable, and sustainable world in which every person enjoys the right to a life of dignity, freedom from poverty and all forms of oppression.
Contact:
Oluwakemi Akinremi-Segun, Communications Coordinator ActionAid Nigeria
Tel: +234 (0) 809 207 6904 | +234 (0) 812 888 8826 
Email: Oluwakemi.AkinremiSe@actionaid.org | Info.nigeria@actionaid.org
Website: www.actionaid-ngr.org Facebook: ActionAidNigeria Twitter: @ActionAidNG