Press Release: ACTIONAID NIGERIA CALLS FOR A REVIEW OF THE WELFARE OF OFFICERS ON SPECIAL DUTIES ACROSS THE NATION.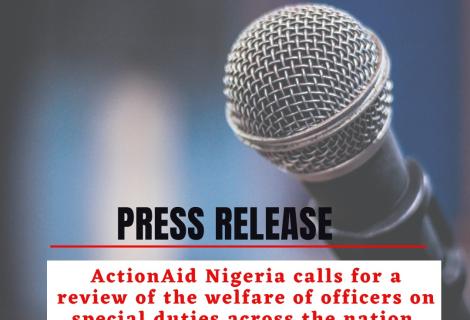 A press Statement
ActionAid Nigeria commends the effort of the Inspector General of Police for acting quickly in the arrest of Prof. Zainab Duke Abiola, alleged to have ordered the assault of her police orderly, Inspector Teju Moses, through her domestic staff.
Speaking in Abuja, the Country Director, ActionAid Nigeria, Ene Obi says: "In 2020, ActionAid Nigeria, in solidarity with the Nigerian Youths, called for an end to police brutality across Nigeria. However, we have been following with keen interest the continued rise in citizens' brutality against security officers across Nigeria. The immediate is the alleged assault of a Police Orderly by Prof. Zainab Duke Abiola and her domestic staff in Abuja. Although, it is saddening that the perpetrator is a Lawyer and a human right advocate and, should be advocating against all forms of abuses. ActionAid applauds the Inspector General of Police for acting promptly in responding to right violations and her immediate arrest. 
This will serve as a deterrent to all those abusing the rights of both male and female officers attached to them, that the eyes of the law are very active, and justice will be served. 
The Country Director, Comrade Ene Obi reiterated that one of ActionAid Nigeria Strategic Objectives focuses on working to protect women and girls from violence, and create opportunities for economic independence and decision making. We stand firmly against all forms of violence against women in the workplace, and ActionAid condemns in strong terms, the use of violence irrespective of any provocation by any gender as there are alternatives to resolving disagreements. 
Comrade Ene Obi concluded that the IGP use this opportunity to review, as a matter of urgency, the welfare of the officers and men assigned on special duties as well as all other police officers to avert future occurrences. Their roles as Orderlies, Special Duty Officers should be clearly indicated. ActionAid, specifically ask that the Nigerian Police further support the development and implementation of workplace policy with special reference to the recent ILOC190 that seeks to address GBV at the workplace. This will ensure that the rights of all persons within the workplace are promoted and protected in Nigeria. 
SIGNED: Comrade Ene Obi, Country Director, ActionAid Nigeria.        
#ENDS
Editor's Note
ActionAid Nigeria (AAN) is a national non-governmental, non-partisan, non-religious, civil society organization and an affiliate member of the ActionAid International Federation with presence in 45 countries. AAN works in solidarity with people living in poverty and exclusion to achieve social justice, gender equality and poverty eradication towards achieving a just, equitable and sustainable world in which every person enjoys the right to a life of dignity, freedom from poverty and all forms of oppression.
CONTACT
Oluwakemi Akinremi-Segun - Sponsorship Communications Advisor, ActionAid Nigeria
Tel: +234(0)8092076904    Email: Oluwakemi.AkinremiSe@actionaid.org | Info.nigeria@actionaid.org Website: www.actionaid-ngr.org Facebook: ActionAidNigeria Twitter: @ActionAidNG