Text of a Press Conference addressed by the General Assembly of ActionAid Nigeria, after its Annual General Meeting to review the State of the Nation on the 18th day of June 2022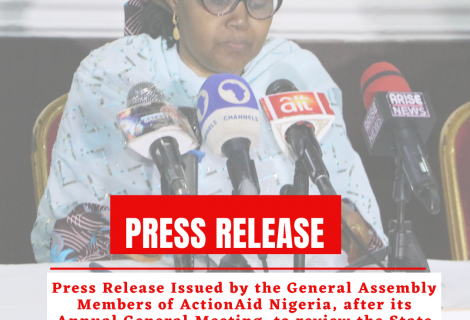 Text of a Press Conference addressed by the General Assembly of ActionAid Nigeria, after its Annual General Meeting to review the State of the Nation on the 18th day of June 2022
Text of a Press Conference addressed by the General Assembly of ActionAid Nigeria, after its Annual General Meeting to review the State of the Nation on the 18th day of June 2022
As an organisation working to end poverty, ActionAid Nigeria believes that the process of achieving its mandate requires the functionality of every instrument of government.
We have reviewed developments in government, politics, the economy, and security during the last quarter, particularly as such affect vulnerable groups, namely women, children, Persons with Disabilities (PwDs), and youths. Thus, we have decided to share our views and recommendations on the way forward.
Worthy of note is that issues of corruption, prohibitive cost of governance, poverty, Infrastructural decay, particularly strikes by academic and Non-academic staff unions and the state of education have been recurrent issues of concern in the last five years.
OBSERVATIONS
Following the conduct of primary elections by political parties, we note with concern the unrestricted use of huge sums of money to influence delegates to win nominations for the 2023 General Elections. In some cases, unsuccessful aspirants are said to have asked for refunds. This ugly development casts a shadow on Nigeria's democracy. It means that the next administration is being built on a shaky foundation if nothing is done to change this narrative.
The outrageous cost of expression of interest and nomination forms by political parties for the primaries amid the debilitating poverty in the country is insensitive and condemnable. Moreso, women's exclusion remains evident in Nigeria's political landscape; only one female candidate emerged for the governorship position in the Northeast (Adamawa State) under the APC platform. No female candidate emerged for governorship position for the main opposition party, the People's Democratic Party (PDP).
The current ASUU strike might be the longest in history if urgent steps are not taken. From 1999 when Nigeria transitioned to democracy, to 2022, university teachers have gone on nationwide strikes 16 times, covering 51 months. This excludes strikes declared by local branches of ASUU over local disputes, some of them lasting several months. The impact of protracted strikes is not limited to the university system alone. It also affects the entire spectrum of society.
The unabating insecurity in the country poses a drawback to the progress being made by Nigeria in attaining the Sustainable Development Goals, particularly goal 1; No poverty, and goal 2; zero hunger. Insecurity across swathes of northern Nigeria weighs on the agricultural supply chain. Smallholders who produce 70% of Nigeria's food have continued to lament safety concerns as kidnapping and banditry are on the rise.  Recent reports by the United Nations Food and Agriculture Organisation estimate that about 19.4 million people will face food scarcity across Nigeria between June and August 2022 due to insecurity.
The current hyper-inflation has made the meagre income of many Nigerians insignificant; for a government committed to lifting 100million Nigerians out of poverty, there is a need for reflection and immediate action. Business conditions expanded at a sluggish pace in the last five months. Still, inflation remains elevated amid greater prices for food and energy, which, coupled with the fuel scarcity and power supply shortage since February, weigh heavily on all economic activities.
Despite the suspension of the subsidy removal plan approved by President Muhammadu Buhari, fuel scarcity persists across major cities in the country, with the cost of transportation and consumables increasing astronomically. Due to scarcity, most Nigerians are forced to buy fuel at the informal rate, as high as N300 per litre as against the N165 official pump price of petrol, thus reducing their purchasing power and deepening poverty. In a country blessed with oil and gas, this is unacceptable. Worthy of note is that amidst the surge in fuel and diesel prices, the national electricity grid has collapsed over 12 times this year.
The magnitude of corruption ongoing in the country and across sectors is perturbing, and questions if the current administration of President Buhari's fight against corruption is yielding the desired result. The pardon by the National Council of State of 2 ex-governors convicted of corruption is a drawback to Nigeria's anticorruption fight. Embezzlement, revenue leakages, and outright stealing of public funds by those entrusted with public offices continue to deprive the country of much-needed development. Anti-corruption fight in the country still suffers enormous challenges as arrests are first made before evidence is collected for prosecution, making the conviction of a person on trial difficult. As a result, anti-corruption agencies keep losing cases that should have been won for the state.
Extrajudicial killings, a clear violation of rights, is on the rise in recent times in Nigeria. An arrested person has fundamental rights, and extrajudicial killings violate the rights of suspects. The loss of confidence in Nigeria's justice system and lack of prompt response and investigations by the Police may not be unconnected with the rise in extrajudicial killings. The gruesome murder of Deborah Samuel, David Imoh, Harira Jubril and her four children, and other victims of extra-judicial killings and jungle justice in recent times is highly condemnable.
RECOMMENDATIONS
INEC should move swiftly to address the menace of bribe-for-vote or vote trading by innovating ways to monitor, detect and curb "delegate buying" during political party primaries.
      To end the exclusion of women in governance, ActionAid reiterates the need for the Nigerian National Assembly to substantiate its commitment to gender equality by re-presenting and re-considering, not just three (3), but all the five (5) proposed Gender Bills in the 5th Constitution Alteration Bills. Nigerian women deserve a constitution that guarantees: a minimum of 111 seats for women in the national assembly; Indigeneship, citizenship, 35% in political party leadership, and more appointive positions for women.
We urge the Independent National Electoral Commission INEC, to seize the current momentum by citizens to register to vote by extending the ongoing continuous voter Registration exercise by at least sixty days to give prospective voters the opportunity to exercise their franchise during the 2023 elections.
With politics and electioneering campaigns high in the air, we are concerned that the critical issue of governance has been pushed to the backseat at every level. Elected officials and governments at every level must, of utmost necessity, balance politicking with their constitutional duties and responsibilities of ensuring the welfare and wellbeing of the people. It is unacceptable for politics to upstage governance.
The Federal Government (FG) should show genuine commitment to improving the quality of education in Nigeria by promptly implementing the 2020 FGN/ASUU Memorandum of Action (MoA). Furthermore, FG should declare a state of emergency on education to rebuild it and ensure that young Nigerians get quality education in public institutions, especially the children of the poor. This is part of government's investment in human capital to develop the economy. It is important to restore the quality of the educational system that graduated most of the politicians and exceptional working-class citizens Nigeria boasts of today and attract students from different parts of the world.
To end insecurity, the Nigerian government should decentralise the Police Force, encourage and invest in community policing, and leverage advanced ICT to combat crime and criminality. To rebuild the peaceful dream country of our founding fathers, political elites, religious leaders, and traditional rulers must also prevail on violent groups in their domains to stop needless bloodshed and tension caused by dissidents.
Nigeria has an ailing economy sustained through unabated borrowing. Rising public debt, unemployment, inflation, and high cost of living require the immediate embrace of fiscal federalism in absolute terms. This will enable the country to break the vicious cycle of poverty. It will eliminate the wholesale dependence on oil, which makes Nigeria a monolithic economy. Adopting fiscal federalism principles will be a practical approach to solving the challenges governments at all levels face today, such as the generation and equitable distribution of income, efficient and effective allocation of resources, and economic stability. Revenue drive and allocation of resources can be done effectively by states and local governments with strong measures to curtail graft and corruption.
The current administration should find a lasting solution to the protracted fuel scarcity in the country by taking appropriate steps to engender alternatives to the wasteful importation of petroleum products into the country.  As a precursor, a major step will be for the NNPC to get the refineries in the country working. This is long overdue.
To reduce poverty, anti-corruption rhetoric should be matched with stiff punitive measures. We call for strong institutions capable of independently interpreting and implementing public policy objectives in Nigeria. Similarly, the anti-corruption fight should go beyond the focus on the politicians but also beam its light on public servants.
We urge Nigerians to vote with conscience by voting out corrupt officials to end years of recycled bad leadership to reduce corruption to the barest minimum in the country.
The Nigeria Police must rise to its constitutional role of maintaining law and order and help the government in the enforcement of laws, and prompt trial and conviction of perpetrators of extrajudicial killings to serve as a deterrence to all citizens not to serve as the jury and judge no matter the circumstance. The security agencies must act professionally, improve intelligence gathering, and respond timely to reports of unlawful conduct to prevent conflicts from escalating into loss of lives and property.
SIGNED
Hassana Yahaya Bello
#END