Communique: Media Master Class on Preventing and Countering Violent Extremism in Kano and Kaduna States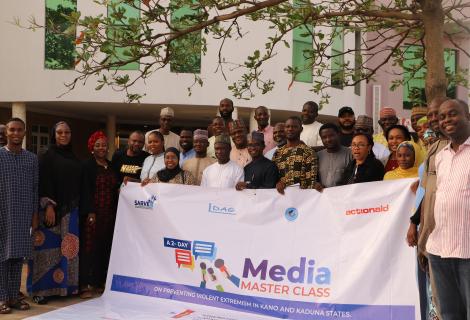 COMMUNIQUE ON A TWO DAY MEDIA MASTERCLASS
A Communique issued at the end of a two-day Media Masterclass on Preventing and Countering Violent Extremism in Kano and Kaduna States, organised by ActionAid, Global Peace Development and Dispute Resolution and Development Initiative, with the theme: Strengthening Media Capacity as a Catalyst for Social Cohesion.
The Masterclass resolves that:
1. There is need for a cohesive society where people willingly work and cooperate despite their differences in culture and belief as well as treat all cultures, races, sexual orientations and genders equitably in order to eradicate fractures and connects everyone to resolve conflicts.
2. Conflict is different interests competing at the same time. Conflict is part of life, but violent conflict is unacceptable to the society. There are direct violence (war, riots) and indirect violence (poverty, hunger, discrimination). 
3. Media reports need to be accurate, impartial, fair, objective and responsible not to cause violent conflict. 
4. Journalists must stop labelling, profiling and using stereotype and must apply survival centered approach in reports. Engage in developmental journalism to raise solutions alongside challenges.
5. Journalists should engage in responsible journalism to ease tension and calm nerves. Seek consent before interviewing or taking picture of a survivor and put human face to stories. Media reports should focus on human angle stories, elevate the voices of the survivors and common people in the grassroots.
6. Journalists should focus on social issues such as poverty, corruption, ethnic and religious tension, appalling education, human right abuses, gender inequality, health challenges and environmental degradation, etc.
7. Journalists should avoid biases that creep into report by ensuring proper framing, adequate representation and fact checking for accuracy without downplaying the role of social media.
8. Journalists must ensure full accreditation to cover the election, take necessary precautions, always work in groups for their safety, cover from a safe position, ensure accuracy and eschew sentiments and political affiliations in their reports. Journalists should also engage in investigative journalism during the elections. 
9. Digital media literacy is an essential skill in the 21st century which plays crucial roles in building social cohesion. Skills such as critical thinking and evaluation can creatively be employed to guarantee e-safety, which in turn helps to foster understanding, empathy and tolerance. 
10. Journalists must be professional, ethical and report responsibly to avert conflict. Before covering election in any area, journalists need to understand; the terrain, characteristics of the people, meet with the decision makers in the area and avoid misinformation, malinformation and disinformation in their reports.
11. Journalists need to have good knowledge of the Electoral Act to enable seamless coverage of the general elections to know when things are wrong.
12. Participants commend ActionAid Nigeria, Global Peace Development and Dispute Resolution and Development Initiative for putting together the media masterclass.
E-signed by the
Communique Committee
AbdulRaheem Aodu
Bashir Bello
Nonye Juliet Ekwenugo