COMMUNIQUE: NIGERIAN PEOPLES POWER FORUM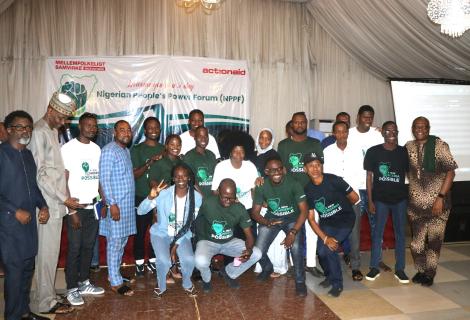 Communique: Nigerian Peoples Power Forum
Preamble
ActionAid Nigeria (AAN) in Partnership with ActionAid Denmark (AADK) with support of Danish International Development Agency (DANIDA) facilitated the Nigeria People's Power Forum (NPPF) at the FCT, Abuja between 16th- 17th of November 2022. As the country prepares for the 2023 general elections, one of the major objectives of the NPPF was to provide a platform for influencing Nigerians towards engendering good governance post 2023 general elections with a view to promote activism and social transformation.
The convening of the NPPF was necessary as the State of the Nigerian Nation is still worrisome going by the available development indexes. The country sits on a time bomb owing to insecurity challenges, inadequate funding of education, health, agriculture, public infrastructure, alarming unemployment rates, worsening poverty cum poor living conditions, perennial fuel scarcity and increased prices of Premium Motor Spirits (PMS) and associated products-gas, diesel, kerosene), increased electricity tariff, poor revenue generation, increased borrowing (both internal and external debt) to finance deficit budget, crude oil theft, etc.
The shrinking civic space in the country and the abuse of human rights especially during the #End SARS protest and other opportunities to demand accountability from the government has been on the increase. As expected, Citizens do not enjoy or benefit from the dividends of democracy. Citizens have no say in decision-making processes, even when those opportunities are provided, it is limited to only a few privileged people. Largely, there is a collapse of good governance structures from the community to the national level. Delegates to the forum participated physically and virtually. The forum had three major sessions namely the Opening Ceremony, the Technical and Plenary as well as Closing Session.
OBSERVATIONS
The forum observed as follows:
That all countries have challenges, what matters is the will power to solve them. Though Nigeria is no different, however the current scale of insecurity has become a threat to peaceful co-existence and national development.
That there is no better way to unite Nigeria other than ensuring that there is equity, justice, and fairness. To achieve this, every Nigerian must be given a sense of belonging. Nigerians must take ownership of the Nigerian enterprise.
That the flooding and climate change crises are influenced by political economy. The focus is always on emergency responses which mostly do not require accountability and compliance considerations.
For instance, in 2022, the floods claimed over 500 lives; with at least 200,000 houses and numerous equipment and facilities being destroyed. Furthermore over 90,000 houses and 569,000 hectares of farmland were submerged.
However, the ecological funds from where funds could have been drawn to address climate change impact in Nigeria, have become slush funds for politicians and their cronies.
That public infrastructure in Nigeria is not inclusive. Provision of infrastructure in Nigeria is not people and community centered and the associated procurement processes are not transparent and inclusive.
Nigeria has Infrastructure deficit that is reflected in all the sectoral development indices.
We must establish the essence and purpose of infrastructure, transportation, energy, and power are means to an end. Good governance is key, and politics is critical to achieve industrial development. Nigerian leaders must take into cognizance the issue of climate change when it comes to infrastructure policies.
There cannot be a functional society without healthy Citizens. The forum observed that accessibility, availability, and affordability are critical issues in the healthcare system in Nigeria. The National Health Act focuses on health from an all-embracing manner, but it is not implemented. Government at all levels are not serious about health care in Nigeria and as a result, Nigeria has some of the worst statistics in healthcare.
For instance, latest figures show a maternal mortality rate of 576 per 100,000 live births, the fourth highest on Earth. Each year approximately 262,000 babies die at birth, the world's second highest national total. Infant mortality currently stands at 69 per 1,000 live births while for under-fives it rises to 128 per 1,000 live births.
Food security is critical to national security, human development, and economic growth. The public sector is central to creating an enabling environment for the sector to thrive. The budget allocation for the agricultural sector is below the Ten (10) Percent Malabo-Maputo Commitment. Reasonable progress has been made in the agricultural sector but more still has to be done, access to credit by small holder women farmers, participation of small-scale farmers in public private partnerships.
Gender issues are critical to national development and building the Nigeria of our dream. More women are needed in politics for inclusive governance; there is need to start living up to 35 percent of women as a minimum. Demanding equal rights for women and girls is not a competition but a collaborative drive. For us to stand as a nation, we need to resolve the gender question.
Public Education in Nigeria is grossly underfunded and as such the infrastructure and personnel are inadequate. There is need for Government at all levels to play their respective roles in ensuring that Public Education is qualitative, accessible, and universal.
That Oil theft has seriously undermined the ability of Nigerians to benefit from the natural endowment. The oil sector is run for the benefit of the few rich and as such the people and communities are excluded from the derivable benefits. The forum also resolved that oil theft is not possible without the connivance of certain government officials.
That the National Human Rights Commission (NHRC) has made considerable progress in recent past, but there is room for more improvement in the areas of funding, adequate staffing, and full autonomy of the commission.
Social justice and equity cannot be achieved unless Nigerians consciously demand it. The Political Class is responsible for causing religious and ethnic dichotomy among the Nigerians.
RECOMMENDATIONS
On the basis of the following observations, the forum recommended as follows:
That policies and mechanisms must be put in place to guarantee justice, equity, fairness, and inclusivity as a panacea to insecurity and threat to peaceful co-existence.
Nigeria must have a leadership that is determined and committed to addressing our security threat in all forms and ensure that the factors and conditions that have given rise to insecurity in Nigeria are frontally addressed. Technology must also be adequately integrated in our Security architecture.
The Ecological funds should be used as a primary source of funding for addressing climate change impact in Nigeria.
Civil Society Organizations should support the relevant MDAs in developing long-term action plan to respond to the adverse effects of Climate Change in Nigeria.
Infrastructure development is a means to an end. Therefore, government at all levels must ensure adequate, inclusive, relevant, and accessible infrastructure for the people.
Governments should address the fundamental issues leading to brain drain in Nigeria with policies aimed at providing economic incentives, globally respected trainings, improved salaries and working conditions, and emoluments.
Government must meet commitment of minimum of 15%, 10% and 15-20% for Health, Agriculture, and Education respectively.
Nigeria must be deliberate and intentional about ensuring minimum 35% of women; representation in elected and appointed political positions in the senior management of public and civil service as well as public cooperation.
The demand for the inclusion of all marginalized, oppressed, and victimized groups in Nigeria should be intensified and sustained by all stakeholders.
There is an urgent necessity for citizens and communities to be actively involved and participate in political and governance processes at all levels
 Nigerian citizens are called upon to be active actors in setting the governance agenda and not just mere recipients of political manifestoes.
Signed by:
| | | |
| --- | --- | --- |
| S/N | NAMES | ORGANIZATION |
| 1 | Jaiye Gaskiya | TPAP-M |
| 2 | Sani R. I. | FOMWAN |
| 3 | Ibrahim Farouq | YIAGA AFRICA |
| 4 | Charles Usie | PLAN INT'L |
| 5 | Tunde Aremu | PLAN INT'L |
| 6 | Safiya Yahaya | SWOFON |
| 7 | Aniobi Lilian | DEV-AID |
| 8 | Michael Fadero | ACTIVISTA |
| 9 | Amb. Eunice Odeghe | FEDAN |
| 10 | Chidi Imoko | MBA |
| 11 | David Anyeale | CDD |
| 12 | Abdullahi Sale | CSACEFA |
| 13 | Kolawole Banwo | WATERAID |
| 14 | Pastor Danladi Jeji | OIDA |
| 15 | Ruth Agbo | AWITA |
| 16 | Tunde Ademefu | JONAPWD |