PRESS RELEASE: INTERNATIONAL DAY TO END IMPUNITY FOR CRIMES AGAINST JOURNALISTS (IDEI)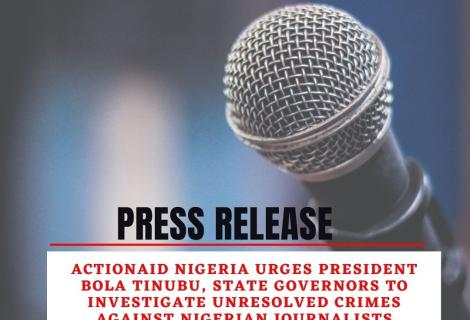 Press Release for IDEI
ActionAid Nigeria Urges President Bola Tinubu, State Governors to Investigate Unresolved Crimes Against Nigerian Journalists
[Abuja, 2nd November 2023] — Every year since 2013, the International Day to End Impunity for Crimes against Journalists (IDEI) has served as a poignant reminder of the Journalists who have paid the ultimate price in the line of duty. 
Speaking in Abuja, ActionAid Nigeria's Country Director, Andrew Mamedu stated that ''ActionAid Nigeria stands in solemn remembrance of the Journalists who have lost their lives in the pursuit of truth. The commemoration of the observance this year focuses on violence against Journalists, the integrity of elections, and the role of public leadership. We reiterate our commitment to press freedom, and we raise our voice against the peril of impunity for crimes committed against Journalists.
This year marked a significant general election, during which at least 14 Journalists and media workers faced unlawful detention, harassment, or physical assaults while diligently covering Nigeria's presidential and federal elections. Days leading up to the polls were marred by further incidents, including attacks and unjust denial of access for Journalists covering election preparations. The demolition of the DAAR Communication building in Rivers State was another blatant assault on press freedom and an affront to democratic principles. These incidents starkly underscore the challenges Journalists face in their mission to inform the public.
Regrettably, Nigeria is yet to witness the kind of just resolution for Journalists as exemplified by the landmark Amakiri v. Iwowari case of 1973. Tragically, cases like the killing of Precious Owolabi of channels TV, Bolade Fasasi of NAWOJ, Zakariya Isa of NTA, the infamous Dele Giwa's murder, killing of Tordue Salem of Vanguard newspaper, Pelumi Onifade, reportedly killed by officials of the Nigerian police during the #EndSARS protests, and many others, remain unresolved. These incidents highlight a grim pattern where perpetrators of such heinous acts against Journalists go unapprehended, unprosecuted, and unpunished.
We have also seen repeated cases of public officers being the perpetrators of these crimes against Journalists, such as the Agba Jalingo case where he was denied the chance to exercise his constitutional right to request bail on allegations of defaming a relative of a sitting governor. There have been instances where security officers from a state government house assaulted Journalists from Channels TV and Daily Post. It is appalling that public office holders, particularly state governments, are among the major perpetrators of crimes against Journalists.
ActionAid Nigeria demands that President Bola Ahmed Tinubu and all State Governors take a bold step to order immediate, thorough, and transparent investigation into these incidents, with a fervent call for accountability. Such executive action would demonstrate the administration's clear stand against impunity for crimes against Journalists and create a renewed sense of hope and confidence in the government's dedication to upholding democratic principles and safeguarding the rights of Journalists. The protection and well-being of Journalists are not negotiable; they form the bedrock of a free, informed, and democratic society. 
As Nigeria approaches another off-cycle elections in Bayelsa, Imo, and Kogi states, the states government and security agencies must prioritise the safety and protection of Journalists covering the electoral activities. It is imperative that Journalists are afforded unimpeded access to cover election proceedings, safeguarding the principles of a free and informed electorate.''
Signed 
Andrew Mamedu 
Country Director 
#ENDs
Editors' notes 
ActionAid Nigeria, a social justice non-governmental organization working to eradicate poverty and all forms of injustice in Nigeria. We are an affiliate member of the ActionAid International Federation with a presence in 45 countries. AAN works in solidarity with people living in poverty and exclusion to achieve social justice, gender equality, and poverty eradication towards achieving a just, equitable, and sustainable world in which every person enjoys the right to a life of dignity, freedom from poverty and all forms of oppression. 
Contact: 
Oluwakemi Akinremi-Segun | Communications Coordinator | ActionAid Nigeria
Tel: +234 (0) 809 207 6904 | +234 (0) 812 888 8826  Email: Oluwakemi.AkinremiSe@actionaid.org | Info.nigeria@actionaid.org