World Food Day: ActionAid Nigeria Calls On Federal And State Governments To Prioritise Irrigation, Extension Services, Access To Credit, And Climate-Resilient Sustainable Agriculture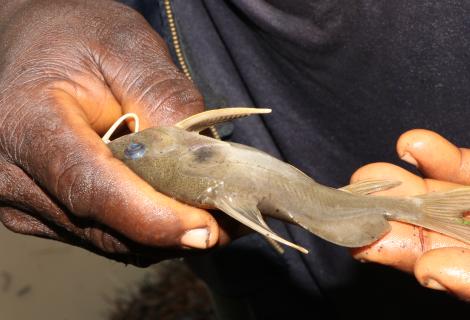 Lagos, Nigeria - October 15, 2023 - On this occasion of World Food Day 2023, ActionAid Nigeria underscores the critical importance of addressing the water poverty gap in Nigeria. The theme, "Water is Life, Water is Food. Leave No One Behind," serves as a poignant reminder of the vital role water plays in eradicating poverty.
Currently, two-thirds of Nigeria's population, equivalent to 133 million citizens, lack access to potable water, leaving them without clean and uncontaminated water sources. ActionAid Nigeria emphasises the intrinsic link between water and poverty, recognising that access to clean and safe water is fundamental to breaking the cycle of poverty.
In response to this pressing issue, ActionAid Nigeria is actively working to provide access to potable water in numerous communities across the country. However, it is imperative that all stakeholders, particularly Federal and State governments, intensify their efforts to bridge this significant gap.
At a media briefing in Abuja, ActionAid Nigeria's Country Director, Andrew Mamedu noted that ''In the agricultural sector, the limited irrigation of only one percent of Nigeria's crop land highlights the overwhelming dependence on rainfall for irrigation. This reliance, compounded by the unpredictability of climate change, leads to production surges predominantly in the third quarter of each year. Key staples such as beans, cassava, maize, millet, rice, sorghum, yam, milk, and fisheries are experiencing low yields, underscoring the urgency for comprehensive and substantial investments in water and irrigation infrastructure. So, the declaration of a state of emergency on food security in July 2023 by the President was a pivotal step towards addressing the multifaceted challenges in the sector. However, achieving success requires a concerted effort to synergise the Ministries of Agriculture and Water Resources, ensuring that interventions are targeted and widespread.''
He further noted that ''The sharp rise in food inflation, currently at its highest in a decade, and the escalating food import bill are unsustainable trends. Urgent and intentional investments in the agriculture sector are paramount. Water, an indispensable resource for milk production, exemplifies the critical role it plays in sustaining agriculture and livelihoods. ActionAid Nigeria urges Federal and State Executives, National and State Houses of Assembly to amplify public investment in agriculture. This strategic approach, with a focus on key areas including irrigation, extension services, access to credit, and climate-resilient sustainable agriculture, is pivotal in achieving the Maputo/Malabo Commitments and ultimately increasing agricultural GDP.''
#ENDs
Editors' notes
ActionAid Nigeria, a social justice non-governmental organization working to eradicate poverty and all forms of injustice in Nigeria. We are an affiliate member of the ActionAid International Federation with a presence in 45 countries. AAN works in solidarity with people living in poverty and exclusion to achieve social justice, gender equality, and poverty eradication towards achieving a just, equitable, and sustainable world in which every person enjoys the right to a life of dignity, freedom from poverty and all forms of oppression.
Contact:
Oluwakemi Akinremi-Segun | Communications Coordinator | ActionAid Nigeria
Tel: +234 (0) 809 207 6904 | +234 (0) 812 888 8826  Email: Oluwakemi.AkinremiSe@actionaid.org | Info.nigeria@actionaid.org