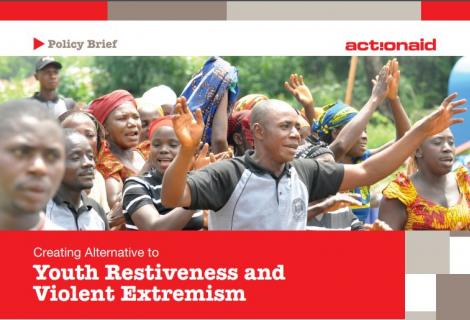 SARVE Policy Brief on Creating Alternative to Youth Restiveness and Violent Extremism.
Downloads
This policy brief was published within ActionAid Nigeria System and Structure Strengthening Approach against Radicalisation to Violent Extremism in Kogi State (SARVE) Project.
SARVE is an innovation of ActionAid Nigeria (AAN) aimed at supporting communities to build resilience against violent extremism through enhanced capacity and structures to utilize available resources in preventing radicalization, respond to, withstand and overcome impact of adverse violence extremism should it occur. The two-year programme which targets youths and women in 2 LGAs (Adavi & Igalamela/Odolu) and 5 Communities (Ofuloko, Okpakpata, Osara, Aku/Osaragada & Fulani) is slated to close-out and pass the baton to the communities and state government by December 2018.
Download full document to learn more.