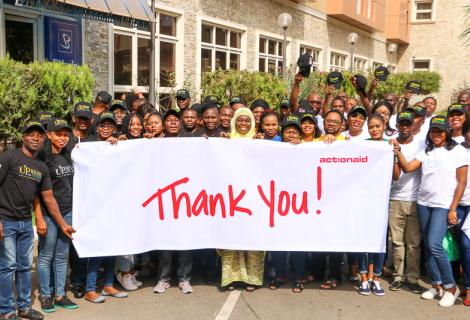 2018 ActionAid Nigeria Annual Report
ActionAid Nigeria Annual Report
Downloads
Throughout 2018, ActionAid Nigeria stood with communities across the country at their various point of need as we exposed the scandal of poverty, challenged systems and structures that perpetuate injustice and confronted any attempt to erode the humanness of excluded Nigerian. This we have done for the last 19 years successfully in Nigeria, regardless of the difficult operating environment and challenging times, our commitments, have remained unfettered.
Not discarding the efforts of the government in the areas of improving the economy, ActionAid believes that much more can be done to make Nigeria better and safer for the citizens. Although the anti-corruption crusade produced some financial recoveries, the menace of corruption is yet to decline in Nigeria as reported by Transparency International (TI) Corruption Perception Index. In response to this, ActionAid Nigeria launched the #Upright4Nigeria campaign not to only change the perception of citizens, but to also emphasise the need to strengthen systems and sanctions to reduce opportunities for corruption in public office spaces across Nigeria.
ActionAid Nigeria remains firm in it believe that a mix of investment in human and social development at all levels; creation of accountability mechanisms with increased citizens' participation in democratic processes and governance as well as redistribution of resources, will result in social justice and gender equality and this will be the fulcrum for our work in 2019.