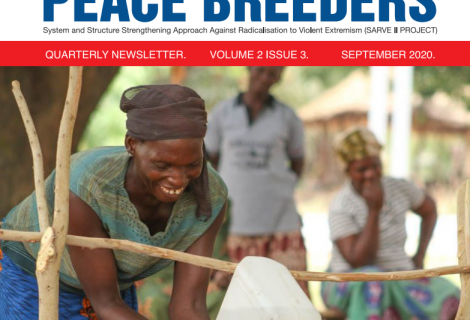 Peace Breeders Volume 2 Issue 3
SARVE II Project Biannual Newsletter
Downloads
What's New?
ActionAid Nigeria and its state partner, Global Peace Development in collaboration with UN women, and Nasarawa State Ministry of Women Affairs and Social Development, successfully launched the state Action Plan for Peace and Security of Women and Girls in Nasarawa State. The document reaffirms the important role of women in peace keeping and negotiations for the maintenance and promotion of peace and security.
150 youths registered for the maiden edition of ActionAid Nigeria's virtual video contest, KONA. The competition was in furtherance of the #Togetherforpeace campaign which already gained momentum amongst young people before the pandemic. The competition was open to young persons who reside in Kogi and Nasarawa states and are within the ages of 18-29 to keep them engaged during the COVID-19 lockdown.
396 Local Volunteers were trained in 24 communities in Kogi and Nasarawa states to support the community awareness and sensitisation campaign aimed to contain the spread of the COVID-19. The volunteers were provided personal protective tool kits as they moved door-to-door demystifying the growing myths and fears about the Coronavirus.
Also, in the news, 2000 young men and women converged at the 2020 Youth Summit to interact on their roles in preventing violent extremism and engage with duty bearers on youth development and inclusion in governance in the SARVEII project states. The summit was in commemoration of the 2020 International Youth Day and discussions were held in line with the global theme 'Youth Engagement for Global Action'. The summit also presented an opportunity for them to network and get insights from experts, entrepreneurs and young business mentors on how to productively engage, organise and create the change they want to see in their communities.
Download full document to read more...