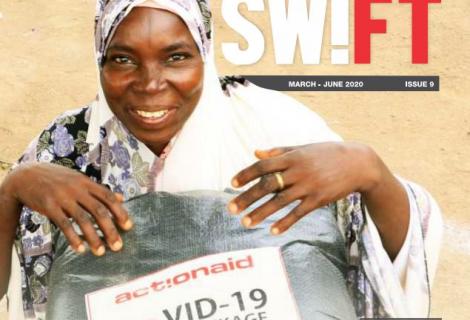 SW!FT Issue 9 - Triannual News Letter
ActionAid Nigeria's Triannual Newsletter
Downloads
In the period under review, ActionAid Nigeria (AAN) provided funds to 27 Local Women's Rights Organizations (LWROs) to focus on mitigating the impact of the COVID-19 pandemic on women and girls in 7 states; Bauchi, Cross River, Enugu, Kebbi, Kwara, Lagos, Kogi. AAN also provided funding for  14 LWROs to track and provide  support to 299 survivors of Gender Based Violence (GBV) during the lockdown; provided accelerated response to Sexual Gender Based Violence (SGBV) cases between March and June 2020 through the setup of toll-free lines, psychosocial counselling, temporary shelter, and referral linkages - this intervention was made possible with funding from Global Affairs Canada (GAC).
To assuage the effect of the COVID-19 lockdown in communities where ActionAid Nigeria is implementing its Local Rights Programmes (LRP), AAN reached 2,027 households, with palliatives in 70 communities in 10 states; Akwa-Ibom, Lagos, Ebonyi, Ondo, Kogi, Kwara, Bauchi, Delta, Kaduna, Kebbi and the Federal Capital Territory, Abuja. The distribution prioritised women headed households with children under 5 who are severely  malnourished or with more than 1 child who is moderately malnourished; child headed household, pregnant and lactating mothers in vulnerable communities, households with more than 8 dependents with 4 children under the age of 5 and households with terminally ill relative. A total sum of N24,000,000 ($ 62,000) was utilised for this intervention.
To further strengthen key stakeholders in tackling Gender Based Violence and other social ills heightened by the COVID-19 lockdown, in collaboration with the Nigeria Police Force in Kogi and Nasarawa state command, ActionAid Nigeria trained 54 police officers on community policing, 39 Journalists were also trained on Humanitarian Crisis Reporting.
Through its Women's Voice & Leadership – Nigeria project and LRP, AAN reached 900 households with 5,802 persons in 74 communities across 53 LGAs in Nigeria with sensitization, messaging and information on prevention and treatment of COVID-19. The messages and information were contextualized in local languages and dialects. In addition, 60 community facilitators were trained virtually on demystifying the myths of COVID-19 in 48 communities.
Also, in the news, in furtherance of ActionAid Global Climate Justice campaign, AAN won a tree planting challenge and received a grant from Global Shapers to plant 205 economic trees in five communities in the FCT.  The trees were planted in commemoration of World Day to Combat Desertification and Drought in Kilankwa (Kwali), Kayeche (Kuje), Jiwa Tsoho (AMAC), Tungan Ashere (AMAC) and Pasepa (Bwari) communities and it provided an opportunity to engage communities on their roles in combating desertification and drought.
Welcome to another exciting edition of SWIFT! Download full document to read more...