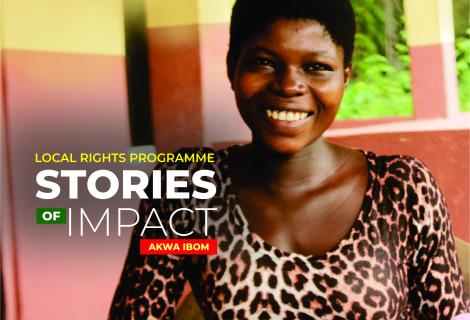 Local Rights Programme Stories Of Impact - Akwa Ibom State
Downloads
As one of the largest producers of crude oil, Akwa Ibom should be ranked high on the scale of human development and socio-economic performance but the economic outlook for the state according to the Nigeria Bureau of Statistics, NBS 2018 report on unemployment is staggering. The NBS reports and unemployment rate of 37.7 percent in the third quarter of 2018. It was the highest reported unemployment rate in the country.
The unemployment and poverty level of the state was concentrated in rural communities especially among women and was reflected in the low quality of living, unequal access to opportunities, health care services, education, and lack of basic development infrastructures such as schools, health centres, potable water and access roads. In 2007, ActionAid Nigeria along with its local implementing partner in Akwa Ibom State; Women United for Economic Empowerment and Applicants Welfare and National Development Centre (AWANDEC) kicked off the Local Rights Programme to scale up the participation and inclusion of women, children and communities. In 2011, the African Human Development Centre became the new partner for the programme.
Download document for full stories of impact in Akwa Ibom state.