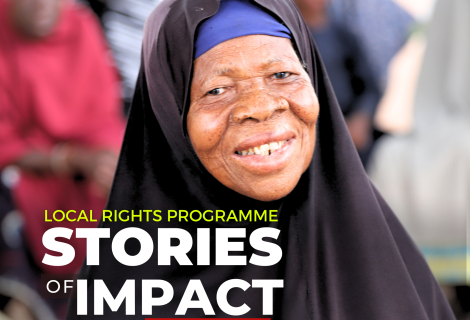 Kwara State Local Rights Programme Stories of Impact
Downloads
Fifteen years ago, ActionAid Nigeria embarked on a mission to address poverty and exclusion in Kwara State. Our programme, then known as Partnership Against Poverty (PAP), sought to empower marginalised communities, champion the rights of women and children, and foster sustainable development through a human rights-based approach. Over time, it evolved into the Partnership and Local Rights Programme (P&LRP), with the aim of improving the socio-economic status of the most vulnerable individuals in our society.
Throughout this journey, our partnership with the Centre for Community Empowerment and Poverty Eradication (CCEPE) has been fundamental to our success. CCEPE, our esteemed local rights programme partner in Kwara State, has tirelessly worked with women, children, and other vulnerable groups in the Kaiama and Asa Local Government Areas, advocating for their rights, building their capacity, and forging partnerships that have brought about positive change.
Our local rights programme interventions have focused on critical thematic areas such as education, health, democratic governance, women's rights and empowerment, food security, and human security in conflicts and emergencies. Through our collective efforts, we have built and renovated health centers, and schools, provided motorized boreholes to communities, and improved livelihoods through training and sustainable agriculture practices. We have empowered communities to demand their rights, take ownership of projects, and participate in the democratic process.
The legacy ActionAid Nigeria through the Local Rights Programme leaves behind is not measured solely by the number of projects implemented, but by the sustainable change we have ignited in the lives of individuals and communities.