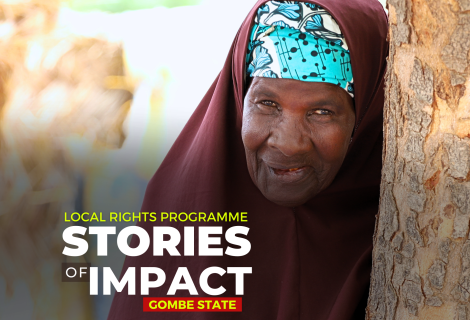 Local Rights Programme Stories of Impact: Gombe State
Downloads
The Local Rights Programme has worked towards giving power to people in the most vulnerable and hard to reach communities by empowering them with essential skills and capacities to make demands by engaging political and institutional power structures in their communities and the State.
The programme commenced in 2006 after a comprehensive baseline survey mapping which showed ugent need to respond to the varies resultant challenges associated with poverty in 17 communities.
The LRP is a unique programme designed to unleash the potential of persons living in communities and make them play pivotal roles in the decisions and actions that affect their lives and communities. It has continually developed community people's capacity to interrogate prevailing challenges in their communities and take necessary steps, enabling them to be responders than on-lookers and bystanders in developing their communities and their collective well-being.
The LRP baseline survey conducted in 2006 showed power inequality between men and women in many communities of the state. This disparity was so apparent that women were not considered critical actors in the decision that affected them the most. It also identified challenges and issues of poor and non-existence of basic amenities and infrastructure such as schools, health care centres, governance systems, security architecture, youth empowerment/participation and agriculture support system.
ActionAid Nigeria and Hope for the Lonely executed the programme's capacity building and human rights intervention throughout project communities, and subsequently, extended the partnership with Joint National Association of Persons with Disability. Selected participants in the communities were trained in different sectoral areas like governance, education, and women's rights. The knowledge and skills required were deployed to advocate for community services and developmental needs.
ActionAid also identified and built priority infrastructure in communities such as schools, primary health centres, and other livelihood empowerment schemes for women and youths, all towards modelling and providing gender-responsive services by Government.