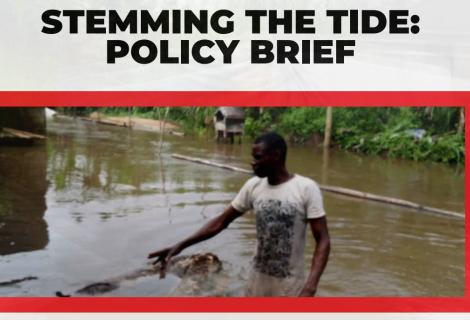 Policy Brief on Recurring Flood: Stemming the Tide
Downloads
Nigeria has had a history of flooding, and in the last decade, the country has experienced recurring and devastating floods that have caused loss of life, population displacement, and extensive destruction of houses, farms, and infrastructure.
Since the devastating 2012 nationwide flooding disaster, for instance, over 22 million people have been affected in 34 of the country's 36 states, and the Federal Capital Territory (FCT). In 2022, Nigeria experienced the worst flooding the country has seen in over a decade. At least, 603 people died and over 2,400 were recorded to have been injured. According to the National Emergency Management Agency (NEMA), over 1.4 million people were displaced due to the floods as of November 2022.
Given this context, the purpose of this policy brief is to examine the phenomenon of perennial floodings in Nigeria, its causes and impact, gaps in policy responses, as well as make recommendations to improve the capacity for prevention, mitigation, and recovery from flooding disasters in the country.