Breaking Barriers …Promoting Inclusive Education For All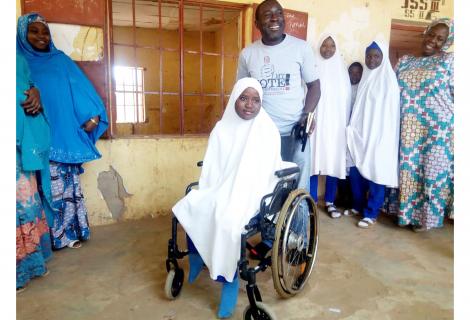 "I once fell down on a bike on my way to school and on that day, I cried all night and thought I should drop out of school because of the pains and humiliation I experienced"
These were the words of I6 year old Ummu Kari - one out of many children with special needs that the Breaking Barriers project seeks to support. Affected with Polio at the age of 3 with both legs infected, being in school was quite challenging for her as friends and family members had to carry Ummu always to school when her wheel chair malfunctioned.
Ummu who is now an SS1 student at the Government Girl Day Secondary School Tambauwal – Sokoto – One of the Schools that the Breaking Barriers Project is intervening, was identified by a consultant working on a data collection exercise in the school for the Baseline research conducted in November 2018. At the validation meeting in February 2019, the consultant while presenting some key findings of the research shared Ummu's plight and the need to support her as an inclusive education practice. During the discussion session, one of the participants, the Education Secretary of Sokoto South Local Government Area pledged to donate a wheel chair that will support Ummu to and from school. He subsequently brought the wheel chair in the evening of the meeting to the project partner for onward delivery to Ummu.
Before now, Ummu would always stay in the classroom even during breaks because she could not go out to play or get something to eat. She was often hungry and thirsty and would rather not use the bathroom because it wasn't disability friendly, but now Ummu can go out and play with her friends.
She is very grateful for the support and is dedicated to achieving her dream of being a Medical Doctor.
Ummu's peculiar story further demonstrated the need for Sokoto State to promptly domesticate the National Inclusive education policy, hence the Breaking Barriers project has commenced working with all education stakeholder in the state to ensure that no child is denied access to education on account of disability.