Building Bridges; Creating Alternatives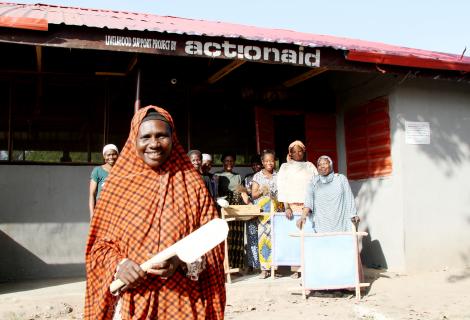 The System and Structure Strengthening Approach against Radicalisation to Violent Extremism, SARVE project ended in style in December 2018. The 30 months ambitious project commenced in 2016 to address the intrinsic issues of extreme violence spilling across communities in Kogi State.
At the time Kogi was on the radar as the state with the most vicious and violent attacks and it was an unsafe corridor for the 11 States that boarders it.  The spill-over effect informed the choice of location for the project as the crime record could almost match a war zone; people were kidnapped on almost a daily basis; highway robbery was regular and deadly; herdsmen/farmers clash was at its peak. Added was the biting issues of poverty; lack of minimal infrastructure; poor or complete absence of health and educational facilities. The people just lived; and died. There was little to inspire a good life.
26 years old Enemi Michael was one of those who had a full bag of sad tales. She got married at 20, with no skill or education; she raised 3000 naira (8 USD), bought a handful of groundnuts, collected used wine bottles and began her business. After the herdsmen attack on her husband's farm, she became the breadwinner and when she took in with a child, she could not achieve so much "It was a complicated pregnancy, an issue between life and death.  At that period, we only ate from the farm, we had no money for anything" she retorts. When it was time for delivery, Enemi borrowed all her maternal kits from pads to the baby clothing. She couldn't even afford the hospital bill of 7,000 (19 USD) and had to pay in instalments for 6 months after delivery.
It was against this backdrop that the SARVE project strategy leveraged on a methodical participatory approach to tackling poverty which topped the list as the number 1 driver of violence and radical extremism.  The project provided Community Livelihood Support while building social cohesion in the communities, assisting government in enhancing and improving structures and systems for better efficiency. The project also focused on providing platforms for learning and sharing of opportunities especially in rural communities where people were economically and socially excluded. It focused on building the capacity of women and youth, by raising their self-awareness, providing exposure to relevant life skills and giving the communities a general sense of purpose.
The project outcome has been fantastic; according to Leadership Newspapers, Kogi State recorded over 160 cases of kidnapping between January to June 2015, but no case of kidnapping was recorded between January to June 2018. Record from the State Police and the local vigilante also attest to the drastic reduction of the rate of kidnapping. Umar Namatazu, 46, the head of the vigilante group at the Fulani community commented as follows:  we now sleep with ease "We only have one case of kidnap since this year and we were able to track the kidnappers and rescue the victim" he enthused.
The project directly reached 12,985 youths, 4,230 women and 8,705 men. One major landmark success was the sustained advocacy which resulted in the passage of the Kogi State Youth Development Commission Bill into Law. The Law will help to create jobs and increase economic development opportunities for youths in Kogi state.
 "Now, with the livelihood support given to us and all they have taught us on peaceful coexistence and harmonious leaving, life is better. Women and youths here are no longer idle, and we are sure our families will no longer suffer, Ememi concludes. Although the project ended December 2018, AAN has now received funding for a second phase and expand the gains to 1 more state. AAN will commence implementation of SARVE 2 in Kogi and Nasarawa states in March 2019.