Restoring Hope and Enhancing a Brighter Future for Young Girls in Kebbi State.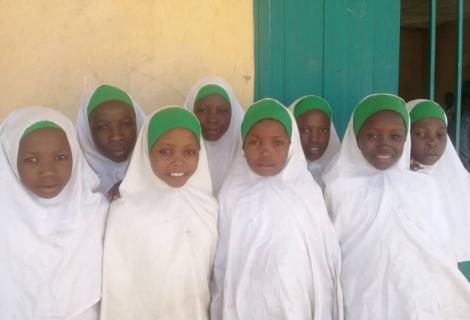 In Sabon Garin Dinkiri community of Kebbi state, girls are not allowed to go to school as their male counterpart. Many who wish to go are deprived by the lack of fund, religion or traditional rules, as they are nurtured and trained on how to be good house wives and at the age of 15 they are married out to a man who can pay the highest bride prize.
To further create safe space for children especially the girl child, ActionAid Nigeria in partnership with ASURPI engaged with habitants of Sabon Garin Dinkiri Community, where it came to the intervention of nine young girls who have been enslaved by the culture, religious and traditional custom.
Through its Local Right Programme, these girls were not only given the opportunity to go to school, but they were the first set of girls in the community to attend school. The programme which was set to eradicate poverty and implement social justice had its direct bearing from communities where children are linked to community supporters outside Nigeria.
Speaking in her words, the Mother of one of the nine said "In our community our girls are not allowed to go to school, they are kept at home and trained to become house wives and when they come of age they are given out to a man whom they are betrothed to"
One of the challenges faced by parents of these girls were inadequate funds to sponsor both the girls and their male counterpart and this gave rise to the neglection of the girls. However, with the Local Rights Programme, ActionAid Nigeria was able to train women through the women peer education programme where women were taught the importance of education and skill acquisition, after which a grant of N5000 naira was given to them to start up a business so as to support their girls in school and contribute to household items.
Expressing their heartfelt gratitude, the girls said, "We are happy that ActionAid Nigeria came to our aid and gave us the opportunity to become who we are today, now we are in school like our male counterpart and we are happy"
ActionAid Nigeria in partnership with ASURPI through School Based Management Committee (SBMC) have also supported in building of gender sensitive toilet in Dinkiri Junior Secondary School, renovated Gundun tagwaye Primary School, and built a Women Development Centre alongside other humanitarian contributions.
To further improve the economic state of the nation and provide more support to communities, we call on government to take up its responsibility in the educational sector and provide necessary social amenities for children and the population at large.