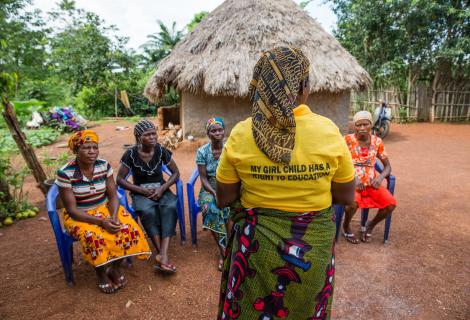 Surviving regardless!
Like some lonely ants in an Island, no one hears their voice; they have lived under the shadow, unable to be seen or recognised by anyone. For many years this has been the situation for the people of Pesepa.
Pohopa as it was formerly known is a community in Bwari Area Council of FCT. In fact, when talking about excluded communities in Nigeria, Pesepa paints the perfect picture, largely because the path to the village is crooked, lonely and raided by creeping bent grass and thorns, almost at the centre of nowhere. Pesepa had been largely anonymous until ActionAid came through for them, exposing them to the rudiments of advocacy as a strong tool for social change.
"Before now, our roads were terrible; bushes all over the place that one would hardly believe there is any community in this area, but ActionAid taught us how to talk to government and constantly remind them of their promise to ensure they respond" Says the community leader, Hon. Alhaji Muhammad.
For the Women of Pesepa, who have been mostly affected by this daunting challenge, they seem to be happier that things are better off now. "We once lost a pregnant woman in labour because of the bad road and the distance to a well-equipped hospital. She died half way to the hospital but now that the road is better, such event hardly ever occur", Hajiya added.
As farmers this was a major problem because it was difficult for them to get their farming products to the market for sale. "So far, the roads have been graded which makes it motorable. Now we can easily transport our fire woods and other farm products to the market where we are highly patronised. We use the money we make from this to feed our families and send our children to school", Says Alhaji.
In addition to the graded road which stands a risk of deteriorating soon, Pesepa lacks well equipped health centre. A dilapidated block of two rooms with a partially open roof is what passes as hospital for these wonderful people. This "health centre" which happens to be the only one in the entire village, with an agonizingly low level of maintenance, has very low supply of medicines and is in desperate need of qualified health workers.
Also, farming inputs (such as fertilizers, herbicides etc.) are provided unregularly by the government. They usually arrive after farming season, when they are barely needed. This poses a great threat to the financial state of the hardworking people of Pasepa, especially because their major source of income is farming.
Despite the dilemma they face, these women still work extremely hard to sustain their lives and the community. Some of them solely provide for their families with little or no assistance from their husbands. They toil under the sun and the rain to fetch firewood and make local Maggie/ spices, walk a 6-hour kilometre every day (even when pregnant) to the market to sell their products and still come home to fend for the family. They have become inured to hardship, full of hope and perseverance, strong-willed and determined to survive. They are grateful to ActionAid Local Rights Programme team for their work so far but, obviously there is more to be done.