"A WOMAN CAN ACHIEVE ANYTHING NO MATTER LIFE'S CIRCUMSTANCES," – Nigerian Woman, Mother, BSc., MSc., Chartered Personnel Manager, and Director of Human Resources
As a young budding girl who just gained admission into the University, Funmi excitedly prepares to resume school as one of the latest undergraduate in town. Few days to her departure, a Male Family Friend came visiting and at hearing the news of Funmi's latest achievement, his words to her father were: "You want to send a girl to the university? She will only go over there to get pregnant! Innocent Funmi overheard that discussion and saw the puzzled look on her father's face; that was the turning point for her as she firmly resolved in her mind to make a success of her life!
She held on to her resolve and bagged a Bachelor of Science degree in Agricultural Science. In 1995, she married her Sweetheart and the sweet journey to forever began. In the year 1998, with a 2-year old daughter and a 7-month old pregnancy, the cold painful hands of death struck to cut off the journey; Funmi had lost her husband! Immediately after the burial, she was abandoned to her fate. Left with the choice to swim or drown, drowning was not an option.
"I said to myself: Funmi, you have a University degree. You can do this! I was determined to take care of my children without begging, selling my body, or stealing. I did everything including selling water and milk to take care of my children. I chose to remain single too because I did not want any man to spoil the good relationship and the good future I was trying to create for my children. I wanted them to be able to stand on their own before I can give a thought to getting married again. By the Grace of God, I have a Graduate who is currently undergoing the one-year compulsory National Service, and my second child is very close to Graduating. My greatest achievement is raising my children single-handedly in the last 22 years."  
Funmi did not allow her situation stop her from being a success. Her concluding remarks to encourage women and girls were:
 "No matter your circumstances as a woman, anything is achievable as long as you have the determination to forge ahead."
During those tough period, she braved the storm of Widowhood, Academics, Male Dominance and Bias in the Workplace, and indeed came out victorious as she currently functions in the Senior Management Team of an International Organization.
ABOUT THE AUTHOR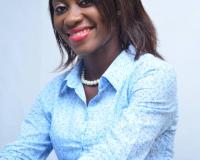 Kehinde Afolabi
is a Communications Officer for the Women's Voice and Leadership Project. She is a Realist and passionate about documenting Inspiring Stories of Women to amplify voices on Gender Equity and Women's Rights