Coronavirus: The Race to Save our Own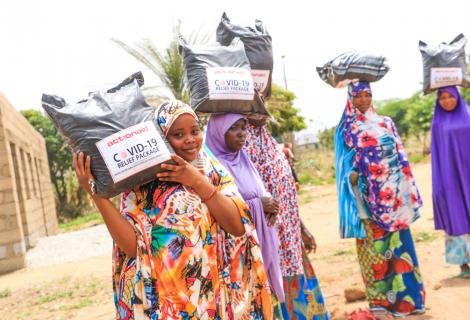 When the pandemic hit, and lockdown announced, ActionAid Nigeria's immediate effort was focused on ensuring that vulnerable persons, women, and children are protected and provided with first-hand information and precautionary measures, away from the rumoured misconceptions and myths in circulation. So, the sensitisation began! from FCT to Nasarawa to Kogi to 20 other States across the 6 geopolitical zones, it was a race to save our own; people living in poor and excluded communities, the almajiris, pregnant women, vulnerable children, people with disabilities and the sick.
With an extension of the initial two weeks lockdown, and interstate travel bans in place, both occasioned by the pandemic and with no assurance of receiving palliatives from the Federal Government, communities increasingly became resistant to sensitisation on COVID19, without food or financial support. Concurrently, the smallholder women farmers of Nigeria revealed the looming food crisis, following their post-harvest losses.
In Lagos, we met Awonronsu Maumeh, a divorced mother of 3 with severe physical disability lamenting how she'd survive the lockdown since her children who were daily income earners would no longer be able to support her, saying. ''Now, I must rely heavily on handouts from people in the community, because my disability has restrained me from being able to work. Please speak with them (referring to the villagers) to help me when I come for help.'' She told ActionAid team during a needs assessment.
Acknowledging that People could be safe from COVID-19 but still die of malnutrition or hunger, ActionAid Nigeria began the distribution of food and non-food materials to cushion the effect of lockdown on the most vulnerable families.  Aivoji and Wesere are the 2 communities in Lagos funded by ActionAid Nigeria's local fundraising initiative, Community Sponsorship. Wesere community is far from the city centre and is closest to Benin Republic. Before the pandemic, residents of Wesere access basic facilities like health care and market in neighbouring country, Benin Republic. However, with the closure of the border, they have been unable to access markets for purchase and sales.
The 2 communities were provided with the food ration of 5kg of rice, 10kg of beans, 10kg of roasted cassava grain, half crate of egg, and other food condiments like a roll of tomato paste and seasoning. Maumeh was one of the beneficiaries of the two-weeks food ration; plans are also underway to reach 2500 vulnerable households in Kaduna State with hygiene kits with support from McArthur Foundation.
Women and children remain at the core of ActionAid's humanitarian response, however in Akwa Ibom, visually impaired 31-year-old male Udosen Akpan caught our attention, and while interacting with him he shared his struggles on how feeding has been difficult for him and his mother ''My mother whom I depend on has been critically ill since the lockdown began. She has been my carer but now I must care for her too. We are now surviving on the goodwill of family and extended relatives, but they are also struggling to feed. The church would have helped me, but church gatherings have been banned. Please help my family, we are hungry.'' Thankfully, Udosen benefitted from the palliatives distributed in Akwa Ibom State. Despite the eased lockdown, life is far from returning to normal; ActionAid Nigeria however remains committed to empowering and supporting its communities to get their lives back on track during and after the pandemic.
ABOUT THE AUTHOR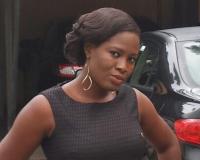 Kemi AkinremiSe
is a Communication Advisor working with the Resource, Mobilisation and Innovation Unit of ActionAid Nigeria, she covers and write stories of communities where AAN works.
ABOUT THE AUTHOR
Lola Ayanda
is a Development Communications Specialist,  Women's Rights and Press Freedom Activist. Lola leads the Communications Hub at ActionAid Nigeria.