Demystifying COVID-19 Myths One Community at a Time.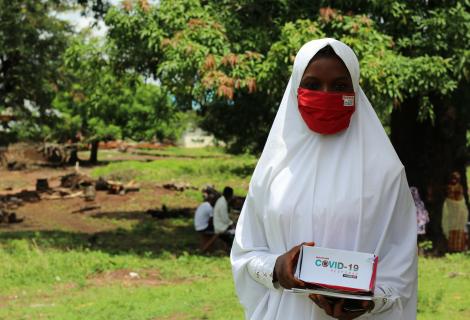 ActionAid's Rapid Response in vulnerable Communities.
"Even in my community Agbaja, so many people do not still believe that COVID-19 is real" said 21-year-old Farida, one of the 396 local volunteers trained by ActionAid Nigeria. Before the COVID-19 pandemic. Farida had just been admitted into the Federal University of Yola to study Biochemical Engineering. She had made new friends and was already adjusting appropriately to her new environment when her school and all other colleges and tertiary institutions in Nigeria were ordered by the federal government to shut down in a bid to contain the spread of COVID-19.
Like many youths, Farida is disappointed that her academics has been put on hold and unlike her counterparts in urban areas, Farida is literally cut off from the rest of the world for lack of access to internet and cannot engage in online learning. She relies solely on radio for information and other educative programmes to keep tab; She had even heard the COVID-19 awareness jingle produced by ActionAid Nigeria in her local dialect from radio Kogi.
As community transmission of COVID-19 continued to rise, ActionAid Nigeria began to intensify actions for community awareness. Despite being a very shy person, Farida jumped on the call from ActionAid to volunteer in her Community as a door-to-door sensitisation campaigner. Agbaja is at the outskirt of the state capital Lokoja and located on secluded hill. The rough, lonely, zig zag road leading to the community is surrounded by thick forest trees that often consumes an hour full ride.
After the community awareness training by ActionAid Nigeria, Farida received a protective tool kit which she used as she moved door-to-door demystifying some of the already existing myths about the Coronavirus in Agbaja; one of  such myths is the use of garlic and eating of raw vegetable for cure and prevention. She is happy to use her time productively and remains hopeful that she will go back to school soonest.
In addition to the 7 COVID-19 awareness jingles airing in 10 states across Nigeria, ActionAid Nigeria has also engaged security agencies to ensure that the safety of vulnerable communities like Farida's is continuously sought and prioritised, during and after COVID-19.
​
ABOUT THE AUTHOR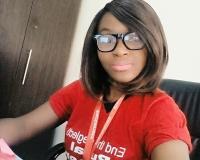 Peace Chiamaka Eneja
An active member of ActionAid Nigeria's Communications Hub, passionate about amplifying community voices and promoting social justice- a means to end poverty for good.