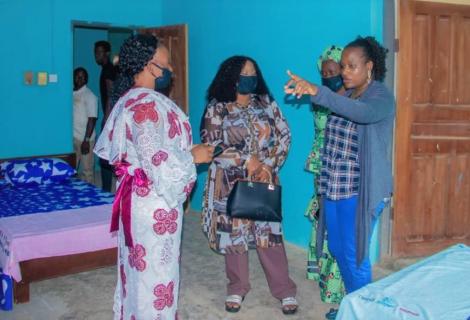 Sited gracefully and safely in the serene town of Amoyo is the dream and desire of every first responder for Sexual and Gender-Based Violence (SGBV); a fully renovated, adequately furnished and staffed emergency shelter for survivors of violence. The once dilapidated and abandoned government-owned rehabilitation block has been transformed to become the first and only emergency shelter in Kwara state.
Renovated within 2 weeks of allocation, the building  contains three (3) dormitories (1 for minors, 1 for adults, and 1 for  caregivers); twenty five (25) beds, mattresses, and bedding materials; three (3) toilets with sanitary pads and toiletries; three (3) bathrooms; a big kitchen doubling as a catering center with one (1) refrigerator, one (1) freezer, and kitchen gadgets; a dining room with television; Office furniture; a counselling and medical services center; and a general staff office. The building was subsequently connected to the national grid with a brand-new generator for electricity support. Potable water was also directed into the main building to ensure adequate supply of water to the shelter home from the borehole.
"Shelter is the major challenge of the Ministry of Women Affairs and Social Development, but with the intervention of Global Affairs Canada and ActionAid Nigeria through GLOHWOC, the survivors of SGBV now have a place, we are eternally grateful to GLOHWOC for facilitating this support for Kwara State, we seek the kind support of GLOHWOC  for inputs during our budget planning  to ensure sustainability of the shelter home and Sexual Assault Referral Center." V.O Abioye, Permanent Secretary, Ministry of Women Affairs & Social Development, Kwara state.
In August 2020, Christiana Abayomi, Executive Director, Global Hope for Women and Children (GLOWHOC), met with the Kwara state Ministry of Women Affairs and Social Development to request for a structure that could be converted to a temporary shelter for survivors of violence given the recent surge in cases of violence within the state. One block out of the state's 3-block rehabilitation outfit was handed over to GLOWHOC by the Commissioner for Women Affairs and Social Development, with the understanding that the centre will be managed by GLOHWOC in collaboration with the Ministry for the first 6 months, after which the Ministry will take over fully.
Since September 2020, the centre has housed fifteen (15) survivors who were provided food, nutritional, medical, and psychosocial support. Seven (7) of these were trained on basic cookery to equip them with income generating skills as they leave the shelter. GLOWHOC is a partner of ActionAid Nigeria on the WVL Nigeria project. The renovation of the shelter home was made possible through the Women's Voice and Leadership-Nigeria (WVL-N) COVID-19 SGBV top-up fund fully supported by Global Affairs Canada.
"Through the GAC COVID-19 Top up grants, SGBV Survivors in Kwara State now access hitch-free medical, legal, vocational and psychosocial supports. We owe our success to GAC/AAN for creating the great opportunity for GLOHWOC to make a difference in Kwara State." Christiana Abayomi, Executive Director, GLOWHOC.
ABOUT THE AUTHOR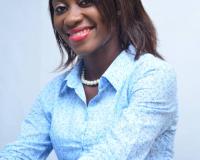 Kehinde Afolabi
Is a communication officer for the Women's Voice and Leadership Nigeria Project (WVL) She is a realist and passionate about documenting inspiring stories of women to amplify voices on gender equity and women's rights