SWIFT WOMAN; Spotlight on women in positions of power making impacts at local levels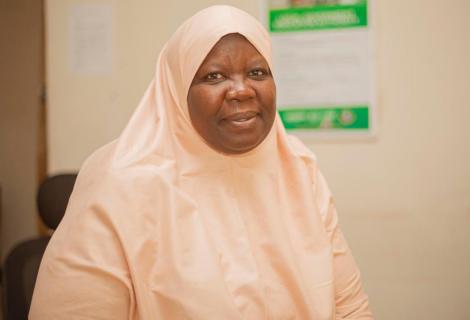 Hajiya Hauwawu Muhammad is not the regular civil servant. The confidence and passion in her voice is enchanting. Her determination to see the Home-Grown School Feeding Programme (HGSFP) succeed she says sterns from her 17 years' experience as a teacher.
Hajiya started her career as a teacher in Army Children School Kakuri where she taught English Language and has worked her way up to the Desk Officer, School feeding, Kaduna State Universal Basic Education Board (SUBEB). Prior to this, she worked as an assistant Head Teacher before joining SUBEB in 2011. "After primary school, I was given out in marriage but was rescued by my cousin who came from abroad during the period and encouraged me to further my education. I studied special needs education and hold a National Diploma and Higher National Diploma".
Further recounting her experience and her passion for the HGSFP, "While I was a teacher, pupils complain during class that they have stomach-ache and when you probe further, you will find out that it was hunger. Most of these children do not eat from home and this affects their performance and concentration in class." It was against this backdrop that the HGSFP was introduced by the Nigerian government. The programme which is being implemented in 34 out of 36 states in Nigeria was first piloted by Kaduna state before the federal government made it part of one of the four National Social Investment Programmes.
Recounting her monitoring experience in the field "I had gone to a LGEA Primary School, Dutsen Wai, Kubau Local Government. At the entrance of the school I saw children holding their plates. When I interrogated the cook, she confirmed she was to feed 280 children two serving spoons of porridge each. Seeing that the quantity she brought will not go around, I offered to serve the pupils and they were excited to get 2 full serving spoons.  Further interaction with the children revealed that the cook only serves them 1 serving spoon instead of 2. I immediately drew the attention of ActionAid Nigeria team and other stakeholders to the anomaly. The case was investigated, and it revealed that the affected cook was being short-changed by an official who has now been suspended".
Hajiya Hauwawu has continued to support AAN's Promoting Accountability and Transparency in School-Feeding (PATS-F) project in achieving its goal of strengthening transparency and accountability in the delivery of the HGSFP and she makes unscheduled regular monitoring visits to schools even on her off days; for this she earned the SWIFT Woman accolade for this edition. The PATS-F project is funded by MacArthur Foundation.
ABOUT THE AUTHOR
Lola Ayanda
is a Development Communications Specialist,  Women's Rights and Press Freedom Activist. Lola leads the Communications Hub at ActionAid Nigeria.