Displaced But Not Deterred: Halima's Story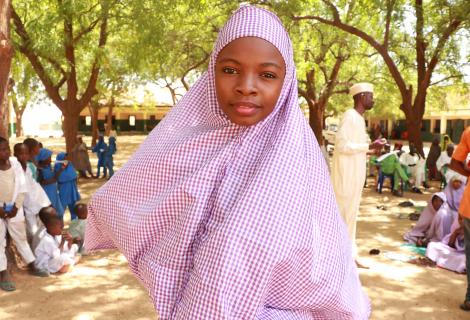 Halima's family was forced to leave Konduga 5 years ago with just the clothes they had on. Her family's story is like many others from Konduga who were forcibly displaced when insurgents invaded the community, setting houses ablaze and killing anyone attempting to stop them.
For 14 years old Halima and her family, it was farewell to the community they called home and the beginning of a new life at an Internally Displaced Persons (IDP) camp. However, three years ago, her family decided it was time to rebuild their lives, so they relocated to Shuari community and have been living with a host family ever since.
On how the displacement affected her education, Halima said ''When we left Konduga, my hopes to continue my education was dashed. I have always been a bright student and I am just one of the lucky girls whose parents are passionate about girl-child education. Sadly, I had to quit school at primary 5 due to the displacement.''.
Halima's story is not uncommon. The impact of the northeast crisis on the education system has been severe, leaving generations of children without opportunities to learn and even more vulnerable. Between 2009 and 2015, 611 teachers were killed, 19,000 teachers displaced, 910 schools destroyed, and more than 1,500 schools forced to close. As a result, an estimated 900,000 children have lost access to learning while 75 per cent of children in IDP camps do not attend school.
Its against this backdrop that ActionAid Nigeria began the implementation of the Achieving Continuous Education in Secondary Schools in Borno State (AcCESS PRO). The project aimed to support children's access to formal education by supporting non-formal education which gives leeway for teaching additional subjects and missed classes before children are re-integrated into the formal education classes and curriculum.
Halima's dream of becoming a doctor was revived in 2020 when she was selected with 239 other children for re-integration into the formal education system through an initial 9-month non-formal education in one of ActionAid's study centres in Maiduguri which was operated in collaboration with the Borno State Agency for Mass literacy and Agency and State Universal Basic Education (SUBEB).
Narrating her experience ''I count myself as extremely privileged to be one of the children selected for the programme. We were taught 5 subjects: Mathematics, English, Basic Science, Social Studies and Civic Education. English is my best subject. We were also provided with learning materials and snacks throughout the duration of the programme. The lessons organised were a great refresher for me since I had been out of school for 5years".
Beaming with smile, Halima said she had good news to share.
''Whilst we were rounding up the non-formal education programme, my father heard about the entrance exam for unity schools and asked if I could take it. I was not sure of my capability to take such a national exam, but he encouraged me. I revised all the lessons we had been taught and studied extra hard. I sat for the unity schools entrance examination, and I passed. For having one of the best results in Borno State, I have been admitted into Junior Secondary School 2 instead of 1 at the Federal Government Girls College, Munguno, Borno State. I could not have done this without the support from ActionAid Nigeria. My father is committed to supporting me through my secondary education and I am excited that I am on the right path to becoming a doctor".
The AcCESS PRO project was funded by ActionAid UK and was implemented from October 2019 to June 2021. ActionAid Nigeria continues to mobilise resources in support of children affected by the northeast crisis.