The Everyday Impacts of the IMF policies on Austerity: Hajja's Story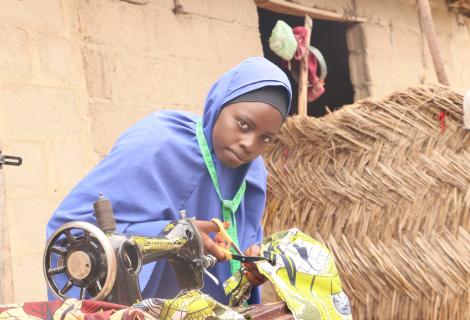 Hajja, at the age of 19, has spent most of her life living with her beloved grandmother. Tragically, she lost her mother when she was just a toddler, and her father relocated to neighboring Cameroon. In her narrative, Hajja shares her life experiences living with her grandmother.

"Living with my grandma has been an incredible journey filled with love and determination. She has always wanted the best for me, which is why she ensured I received an education. Recently, I completed my senior year in secondary school. However, the path to graduation was far from easy for both my grandma and I To support us and pay our bills, my grandma sells akara (bean cakes). Our days start at 4 AM, to prepare the beans to make akara. By 6 AM, the akara must be ready for sale, and I support her with sales for a little while before I get ready for school, while my grandma continues to fry and serve the customers. She insists on my punctuality at school, knowing that the school marks lateness at 7:30 AM, which results in minor punishments like cleaning up around the school."

Although Hajja aspires to become a teacher, she also became a proud graduate of a fashion designing programme organised by ActionAid Nigeria. She shares the reason behind her decision to explore fashion designing:

"I first heard about ActionAid's skills acquisition programme through our community leader, who encouraged young women to apply. My motivation was simple; if I could secure temporary employment as a tailor after the training, I could support my grandma financially and alleviate her burdens. So, I enrolled. At the time, I had no idea we would receive start-up kits. The one-year training began but juggling it with school, particularly in my final year wasn't without challenges. The school is located outside our community, adding to the financial burden for my grandma because she had to provide my daily transport fare of about N300. The increase in fuel cost began while I was still writing my exams, so there were days that I walked a distance so that my grandma wouldn't have to increase my transport fare. If ActionAid hadn't reimbursed us for our transport fare for the tailoring lessons, I'd have had to be walking over 5km distance to the training centre.

I usually got home around 6pm. I'd quickly change and help my grandma with the evening sales of akara and other petty things that she sells. Despite these challenges, I completed my final exams, and I am proud I also completed my training in Tailoring."
Upon completing her one-year mandatory fashion designing/tailoring training, ActionAid Nigeria, in collaboration with HALI, provided sewing machines and other essential equipment to the trainees, distributed in groups of four.

Reflecting on her journey so far, Hajja shares her progress:

"Since completing my training, I have ventured into commercial sewing, creating dresses for clients. I still wake up at 4am to support my grandma and immediately after the mornings sales, I begin to attend to my own customers. My tailoring venture is thriving, bringing in profits. Currently, I am saving to help my grandma expand her akara business. I aspire to see her business grow beyond its current size, which will require larger pots and cookers. I'm thrilled to be on the path to making her dream a reality.Since, I have completed my secondary education, it grants me more time to assist her with household chores. With successful businesses for both my grandma and myself, we hope to save for my tertiary education, where I hope to study education and fulfill my dream of becoming a teacher.

ActionAid are sharing stories of people whose lives have been impacted by IMF policies. Demonstrating the impacts of austerity, limited access to public services, frontline public sector workers stories, and stories of women's unpaid care burden and how it impacts their lives.

These stories are shared ahead of the IMF annual meetings taking place in Morocco.

Despite repeated calls to end austerity and debt-inducing loans, the Washington-based International Monetary Fund (IMF) insists on pushing austerity and restrictions on spending on health, education and climate action across the world and Africa.

As only the second World Bank and IMF Annuals meetings to be hosted in Africa kick off, and despite calls within the IMF's African regional outlook in April to ensure 'important efforts to tackle climate change do not crowd out financing for basic needs like health and education', in country advice from the IMF show it is demanding countries prioritise debt repayments over crucial spending on health, education and climate action.

ActionAid are calling on the IMF to stop imposing / recommending austerity policies and to shift their policy advice instead to focus on ambitious and progressive tax reform as the key alternative.

- The IMF must stop advising austerity measures and public sector wage bill cuts, the IMF needs to consider all economic policies that create more resources for government (particularly progressive tax reforms) and flexibility in how they can spend and invest it .

- The IMF must support more ambitious debt cancellation and rescheduling programmes, and support governments to restructure their debts so that they can prioritize investments in quality public services.
- ActionAid are for the IMF to Cancel debt for climate vulnerable countries and reform the global debt architecture with a new debt workout mechanism not dependent on IMF.

- The IMF must take global action for tax justice – through wealth taxes, windfall taxes, financial transaction taxes etc. Seize the opportunity of the UN taking the lead role on taxes away from OECD to make climate-sensitive tax a priority.

- ActionAid are calling for a national action on tax justice to support countries to expand tax-to-GDP ratios by five percentage points through progressive tax reforms by 2030 so they can double spending on health, education and a just transition.

- Ensure climate finance comes in grants not loans (and remains under more representative UN auspices rather than handing power to the IMF / WB).