HOW ZAINAB GOT HER GROOVE BACK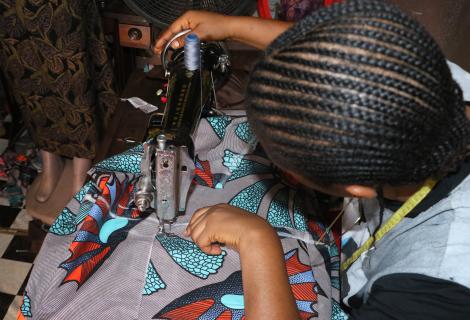 HOW ZAINAB GOT HER GROOVE BACK
Zainab is last of 8 children. It was a rowdy home in a small room where everyone struggled for space. Zainab faintly recalled how she and her siblings survived hunger and emotional neglect. So, she thought to herself to redeem the condition of her family by getting education.
When Zainab completed her secondary education, her parents could not afford her university studies. Her dreams crumbled: "I felt very discouraged and neglected, I felt hindered by money" she muttered in repulsion.
While contemplating on the next step after her inability to proceed to university, she met her secondary school classmate who was also caught up in similar predicament. They hatched up a plan to travel to Europe: "When I met my secondary school mate, she encouraged me to travel out of the country. We thought travelling out was the best option for us than suffering at home". So they thought.
To avoid being discouraged, Zainab refused to inform her parents or anyone about her planned road trip to Europe, she had been linked to an unseen sponsor who paid her transport fare out of Benin and promised to fund the entire journey. Zainab left without saying good bye to anyone at home. But as the journey progressed she sensed it was going to be deadly adventure: "When I was going on the journey, we had so many stops, at a time I could not see my friend and I could not reach my sponsor on the phone. I became confused. Everything they told me was a lie, I cried and prayed I can just return home" she hints of starving for 4 days without food and water to bath. But she was lucky that it was the end of the journey to the unknown.
In Nigeria, she fell back to hopelessness: "On return to Nigeria, I felt all my plans have ended; I thought life has ended for me" she said.
Soon after she returned, she happened on the ActionAid skill training programme for returnee and potential migrants. "I decided to learn sewing because I love fashion, I want to say that the training programme helped me a lot, it really changed my life" she affirms.
"Now, I can sew very well, I make cloth for people and make money from it to sustain myself and my mother" she said.