UPSKILLED: KUDIRAT'S STORY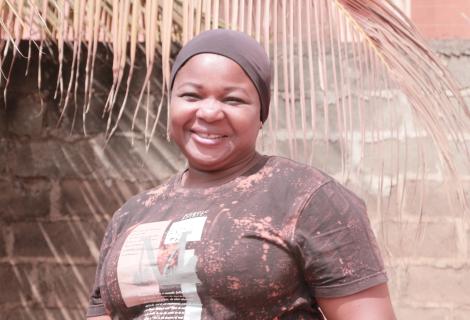 UPSKILLED: KUDIRAT'S STORY
Kudirat has had enough; she thought to herself, it was over. Kudirat is a University graduate but worked for salaries less than that of a labourer. She has had 3 attempts at fairly good job offers but the jobs came with compromising conditions. "Immediately after my NYSC, I got a job, I scaled through the interviews and passed all the tests but the manager called me to his office and told me he liked me and wanted to go out with me. I knew it was a red line and never went back to pick up the appointment letter" Kudirat said.
The sex-for-employment scenario played out again with two more opportunities. At this point, she began to think of quitting the idea of seeking for paid employment for business. Starting a business, would be a big hurdle, she had no capital and no one to borrow. "When I couldn't get a good paid employment, I decided to look for other things to do; I found a secondary school in my area where teachers were needed, so I applied and got the teaching job but the salary was too poor. I was paid Eight Thousand Naira (8,000), after a month, it was increased to Ten Thousand Naira (10,000) because I was combining teaching 4 subjects in secondary with occasionally attending to the nursery section" nodding in displeasure, Kudirat noted that it was as if her life depended on the job.
She continued working on the meager wage teaching job until an event that will alter her course of life occurred. Her mother died. "It was like the end of the world to me because my mother was like a pillar to me, after her death, I decided to relocate to Auchi to stay with my siblings" she acknowledge that the decision to relocate to Auchi was unintentional.
"One day, I was thinking of many options including travelling abroad, because I was so frustrated, then my brother brought a form and asked me to fill it, I read through and filled the form and after a few weeks I was called to participate in this ActionAid training" she said.
"Let me tell you, if the skill acquisition training did not come at the time it came, I would have travelled out" she affirms. Kudirat tells how the skill in Catering Services transformed her mindset, raised her level of confidence and made her to see the opportunities around her. "I learnt how to bake, I can bake cake very well now, I have baked some cakes that I have sold, I am now planning big time cake and baking business here in Auchi" no longer interested in illegal migration she insists: "If I must travel now, it will be for vacation" she quips.